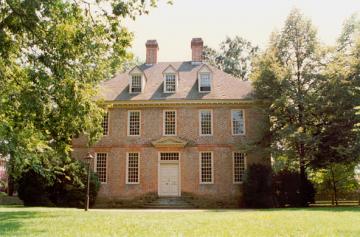 The Brafferton, 105 Jamestown Road, is located on the south side of the Wren Yard, southeast of the Wren Building. It was built in 1723 by William & Mary with funds from the estate of English scientist Robert Boyle. These funds were profits from the Brafferton Estate in Yorkshire, England, for which the building was named. The Brafferton was originally used as an Indian School, with the intent to educate and prepare Native American boys for the Anglican priesthood (an endeavor that met with little success). After the Revolutionary War, English funds ceased to come, and the school was closed.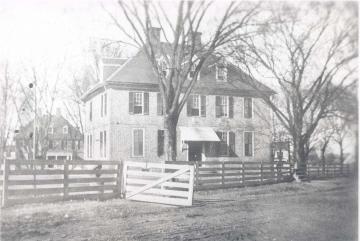 It was damaged during the American Civil War, and the College spent $3,000 for repairs. In 1865, it served as the office and quarters of the commanding officer of the Union garrison in Williamsburg. In the spring of that year, the Brafferton was used as part of the Union defensive works after a raid of troops under John Singleton Mosby.
Throughout the years, the building also served as a residence for professors, a dormitory for students, an armory for the Wise Light Infantry, and the alumni office. It was closed for two years while undergoing renovation and reopened in 1905 as a senior dormitory. Hot and cold running water was installed for each room in 1912. In 1918, it became the headquarters for the Students' Army Training Corps. It housed several offices throughout the 1920s: Business Administration Office (1920), Office of the Dean, Office of the Registrar, the College Physician (1921), Flat Hat office (1922), and the President's and Treasurer's offices (1922). It underwent restoration between 1931-1932. It also temporarily housed fine arts classes and the Music Department. Since 1985, the Brafferton has housed the Office of the President and the Office of the Provost.
In 2012, a 13-month renovation project began on the Brafferton, including the installation of a new heating, ventilating, and air conditioning system and new plumbing. Safety measures included installing smoke detection and sprinkler systems and emergency lighting, as well as removing asbestos and other hazardous materials. The brick walls (the most substantially original of the College's three colonial buildings), were re-pointed, cleaned, and repaired, and the 1932 terra cotta roof tiles were replaced. The staff moved back into the Brafferton by the start of Fall 2013 classes.
Material in the Special Collections Research Center
"So good a work" : the Brafferton school, 1691-1777, Karen A. Stuart, MA Thesis, 1984. Swem stacks, Archives book collections: LD6051 .W5m Hist., 1984, S78 (available for interlibrary loan requests).
See the Special Collections Research Center Database for collections including the University Archives Photograph Collection and many others.
Catalog, 1895 p. 39; 1906 p. 34 (new porch)
Colonial Echo, 1899 p. 9; 1901 p. 68; 1902 p. 15, 19; 1903 p. 112; 1906 p.17, 157; 1907 p. 7; 1908 p. 13; 1910 p. 14; 1922 p. 22; 1924 p. 19; 1926 p. 19; etc.
In the News
External Links