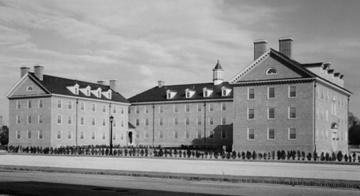 The Bryan Complex at William & Mary, 300 Richmond Road, is located across from Zable Stadium at Cary Field and is named for John Stewart Bryan, former President and Chancellor.
It houses 324 students, and it held the Marshall-Wythe School of Law from 1955-1967. The complex consists of five dormitories, including Bryan Hall, Stith Hall, Dawson Hall, Camm Hall, and Madison Hall.
Bryan Hall, Dawson Hall, and Stith Hall were built in 1953 by Thorington Construction Company of Richmond for $863,138. Each structure was composed of 3 stories, housed 216 men in double rooms with 9 rooms on each floor of each wing, and 18 rooms on the central hall of each floor in Bryan Hall. The ROTC Department was housed in the basement of the right wing of Bryan Hall. Two trunk rooms and a recreation room were also located in the basement. The College broke ground in 1958 for two new wings to house 180 students, and in 1959, Camm Hall and Madison Hall were built by Harry B. Graham Company for $389,327.
On February 6, 1959, WBE, "Williamsburg's first radio station," began operating from the Bryan East third floor. Beginning in August that year, the Marshall-Wythe School of Law occupied two floors of Bryan. The basements of Bryan, Camm, and Madison were used as classrooms in 1963. There was a fire in the attic and center cupola of Bryan Hall in 1966. In 1967, the Law School occupied four classrooms in the basement of the complex but then moved to the Old Library (now Tucker Hall) in the fall of 1967.
In 1973, the Geology Department was located in Bryan Hall's basement but had moved to Small Hall by late October of the following year. In 1974, eight offices were converted into rooms for 16 students. In 1975, several alterations were made to the basement, including the additions of a laundry room, a kitchen, restrooms, a lounge, and seminar rooms. The law library was removed from Camm and Dawson Halls, and rooms for 36 students with baths, lounges, and kitchen facilities were added to Madison and Stith Halls. In 1980, the basements of Dawson and Camm housed the laboratory of Landmark Commission, Virginia Center for Archaeology, the laboratory of the Anthropology Department, and a conservation laboratory. The Tidewater Cultural Resource Center, located in Camm Hall basement in 1986, provided computerized listings of historically significant places on the peninsula.
At present, all floors and rooms of the Bryan Complex house undergraduate upperclassmen, except for the Rita Welsh Adult Literacy Program, located in one end of the basement of Bryan Hall.
The recently completed Bryan Hall Renovation Design Team: Clark Nexsen and Contractor: David Nice Builders.1
Photographs
Flat Hat 05/19/1959, p. 16 (construction NW wing)