The Commons, often referred to as "The Caf" by William & Mary students, is a large dining hall located at 651 Ukrop Way (formerly Campus Drive), across from the Randolph Complex. The Caf is the College's only free-standing dining facility.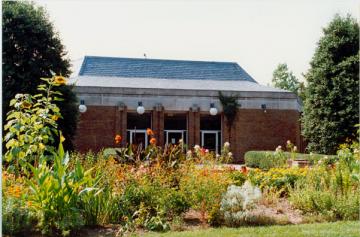 Architect Hubert L. Jones designed the dining facility, which was built by the Harry B. Graham Co., Inc., of Ashland, Virginia. Construction began in 1965, and it opened September 1967.
The Commons was renovated in 1987. The dining facility also underwent a large-scale renovation during the 2004-2005 school year. So that students could still eat Caf food during the renovations, the William & Mary pitched a humongous, temporary tent on Yates Field, officially named the "UnCommons" but dubbed the "deCaf" by students.
The 2004-2005 project included improvements to the building, built-in equipment and reconfiguration to facilitate food preparation and delivery. Details:
Cost: $ 11.5 million planning (source - 9C/9D Debt)
Renovation GSF: 35,820
Start Date: March 2005
Finish Date: September 2005 (Planned), August 2005 (actually completed)
Design Team: MMM Design Group
Contractor: DPR (Aramark)
Building Committee: Haskell Brown , Project Manager Anna Martin, Vice President, Administration W. Samuel Sadler, Vice President, Student Affairs Martha Sheets, Senior Planner Charles Maimone, Director, Auxiliary Services Bob Dillman, Associate Vice President , Facilities Management Dave Shepard, Deputy Director, Facilities Management Wayne Boy, Associate Director, Facilities Planning, Design & Construction John Coleman, Campus Police Crime Prevention Phil DiBenedetto, Director, Dining Services Larry Smith, Director, Commons Dining Paul Brockwell, Student Jonathan Carter, Student Megan Dorward, Student Zachary Vaughan, Student