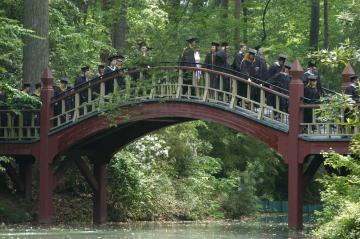 The Crim Dell is a small pond located on the section of road connecting Landrum Drive and Blair Road, between old and new campus. The Crim Dell Meadow lies between the foot of the Sunken Garden (at its west end) and the Crim Dell. William & Mary decided in 1948 that their lily pond had become a "stagnated mud hole" and needed restoration. However, the Crim Dell was not renovated and re-landscaped until 1964. The Crim Dell Bridge was built over the lily pond in 1965. The landscaping project was completed in 1966 through funds provided by Class of 1964 alumni and friends. The Crim Dell was dedicated on May 7, 1966 and was named for John W.H. Crim of the Class of 1901.(Flat Hat 13 May 1966, p. 11) The Wildflower Refuge Amphitheater was built across the road from the Crim Dell in 1979.
Sculpture
"A 4-foot-tall sculpture of a blue heron that stood in the Crim Dell pond at the College of William & Mary for 19 years is missing. The art, estimated to cost between $8,000-$10,000 was last seen on the Friday that the remnants from Ernesto struck the area. "It could be at the bottom of the Crim Dell," William & Mary spokesman Brian Whitson said. Facilities workers will examine the area to see whether the piece was pushed over, he said. The university filed a police report on it, calling it theft. Made by William & Mary alumnus David Turner, the statue also includes cattails attached to it and a turtle on the base." (Daily Press, 16 September 2006, Buildings and Grounds--Crim Dell, University Archives Subject File Collection) The heron was found at the bottom of Crim Dell, the police said it was vandalized but nothing further.
Photographs
University Archives Photograph Collection
Colonial Echo, 1967, p. 4; 1973, p. 3; 1977, p. 1; 1983, p. 16
In the News
A number of stories have been published in The Flat Hat about the Crim Dell over the years. You may wish to consult the card catalog to the Flat Hat, Alumni Gazette, and William & Mary News in the Special Collections Research Center for all references.
The Flat Hat: 3/23/1928, 10/7/1958, 10/21/1958, 10/28/1958, 12/1/1995
The Alumni Gazette: 34.4, 4, 10
"The Legend of Crim Dell and other Campus Rumors," Jay Busbee, class of 1990, William & Mary Alumni Magazine, Spring/Summer 2006, Vol. 71, No. 3/4.
It came. Out of the muck of Crim Dell... 20 February 2009.
Further Material in the Special Collections Research Center