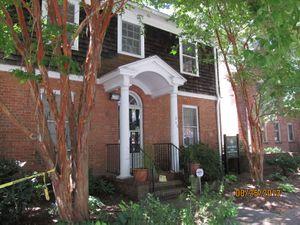 The Davis House at William & Mary is located at 110 North Boundary Street. The property contained a house and a bungalow on the Blacksmith Lot. The bungalow was probably on the site of the College Apartments, 112 N Boundary Street. The house was likely built between July 1925 and January 1928. In 1928, W.A.R. Goodwin purchased the house from E.T. Davis and rented it to William & Mary for use as faculty housing. In 1930, the College purchased the property from the Williamsburg Holding Corporation. In 1987, the house became the Office of Special Programs.
Material in the Special Collections Research Center
References
University Archives Buildings File (2007), Davis House and Property, Earl Gregg Swem Library, The College of William & Mary.