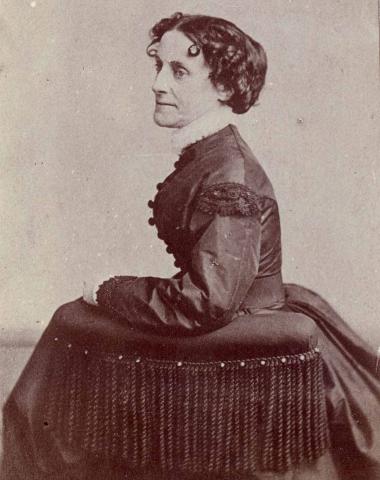 Elizabeth Van Lew (1818-1900) was born in Richmond, Virginia, on October 15, 1818, the first child of merchant John Van Lew (1790-1843) of Jamaica, Long Island, New York and Eliza Louise Baker Van Lew (1798-1875) of Richmond, Virginia.
During the U. S. Civil War Elizabeth Van Lew was a Unionist and abolitionist who engaged in espionage and managed a spy network from her home in Confederate States of America capital of Richmond, Virginia.Her organization aided Federal prisoners of war and gathered intelligence for the U. S. Army. Its achievements included the breakout of 109 Union inmates from Libby Prison (a few blocks from Van Lew's home) and the clandestine reburial of Union Colonel Ulric Dahlgren, both in the spring of 1864. "Escaped prisoners often attested that they had been aided in their escape by southern black people, and this positive image of African American courage helped to foster sympathy for slaves and support for emancipation in the North.
Van Lew's spy network relied upon the efforts of various Unionist sympathizer's efforts, including African Americans. Mary Richards (incorrectly referred to later as Mary Bowser), was manumitted by the Van Lew family, sent to Liberia and then invited to return to Richmond, resubmitting herself to enslavement, in order to serve as a spy within Jefferson Davis' Confederate White House. This use of stereotypical perceptions of enslaved African Americans and women assisted Van Lew in her plans of espionage against the Confederacy. "She was arguably the Civil War's most effective and innovative spy, hiding behind her proper Southern manners as she orchestrated a far-reaching espionage ring for the Union Army...she was cunning enough to place a former family slave as a spy in the Confederate White House, she devised ingenious ways to gather and communicate information."
The Van Lew family were wealthy slaveholding members of Richmond society, their home and grounds occupied a full city block. Initially, Elizabeth believed that "through individual acts of kindness, charity, and manumission they [slaveholders] could erode slavery gradually, from the inside". This opinion changed to demanding full emancipation when the Virginia Convention voted to secede from the United States on April 17, 1861.
In 1864, Van Lew was investigated for her alleged Federalist sentiments, but "Charles Blackford of the adjutant general's office concluded that she was "very unfriendly in her sentiments towards the Government", but did "not appear that she has ever done anything to infirm the cause--Like most of her sex she seems to have talked freely" and no action was to be taken.
As her work came to light, Van Lew was estranged from Virginia society and was characterized with the epithet "Crazy Bet". In an attempt to undermine her role during the war, she was portrayed as an insane woman who was unintelligent, poorly dressed, dirty, talked to herself, and who lived on the fringes of society. In fact, "the main weapons in Van Lew's Unionist arsenal...were her family's wealth, which she spent liberally to bribe Confederate prison guards and officials, and her family's social standing, which she parlayed into numerous favors from influential Confederates."
Having spent her family's fortune on intelligence activities during the war, and considered a pariah in Richmond, Van Lew was never fully reimbursed by the United States government for her work. "When Ulysses S. Grant became the 18th president in 1869, he made her postmaster of Richmond, one of the highest federal offices a woman could hold in the 19th century, paying $4,000 a year." She held that post until President Rutherford B. Hayes replaced her with his own appointment, but retained many black and female employees who worked under her.
Van Lew died on September 25, 1900, and was buried Shockhoe Cemetery in Richmond.
Materials in the Special Collections Research Center
External Links/Further Reading
Elizabeth R. Varnon, Southern Lady, Yankee Spy: The True Story of Elizabeth Van Lew, a Union Agent in the Heart of the Confederacy, (New York: Oxford University Press, 2003).
Contemporary news accounts of the Libby Prison breakout from Civil War Richmond, Inc., accessed December 17, 2018.
---
Ancestry.com., U.S., Sons of the American Revolution Membership Applications, 1889-1970 (database on-line), Provo, Utah, USA: Ancestry.com Operations, Inc., 2011, accessed December 13, 2018.
Cynthia Kierner and Sandra Gioia Treadway, editors, Virginia Women: Their Lives and Times, (University of Georgia Press: 2015), 305-322.
Scott S. Smith, "Elizabeth Van Lew, A Spy Who Lifted Union Cause Dig Deep: She fearlessly fought the institution of slavery", Investor's Business Daily;, Los Angeles, November 26, 2014, ProQuest Document Link, accessed December 13, 2018.]
Kierner and Gioia, eds., Virginia Women: Their Lives and Times, 308-309.
Ibid, 315.
Ibid, 310.
U. S. Find A Grave Index 1600s-Current, Elizabeth Van Lew (1818-1900), Memorial #1056, record added January 1, 2001, accessed December 12, 2018,