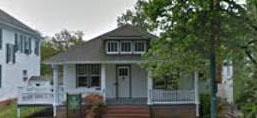 The Faison Property at William & Mary is located at 404 Jamestown Road.
1987--resolution to purchase property at 404 Jamestown Road, lying immediately adjacent to the College.
acquisition recommended by the Master Planners for the College.
owner willing to accept $92,000
one-story frame, previously guest house of Zoe Beryl Faison
In 1989 the university began using the house as the Office for Auxiliary Services. In 2007 it became the home of the Student Assembly and Commuter Student House.
References
University Archives Buildings File (2007), Faison Property, Earl Gregg Swem Library, The College of William & Mary.