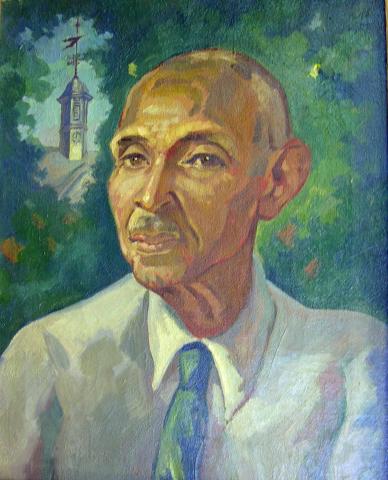 From Henry Billups: Bell Ringer at the College of William & Mary, 1888-1955 by Trudier Harris1, Assistant Professor of English 1973-1979:
"When Charles Henry Billups, Jr. (1872-1955), a black man, came to work at the College of William & Mary in Williamsburg, Virginia in 1888, he was an obscure descendant of liberated slaves. The college was extremely small; there were six faculty members, a president, and a student body of less than two hundred. When Henry died in 1955, the College had a student body of approximately 1,700 and over a hundred faculty members. During that 67 year period, Henry Billups, as he was commonly referred to by most who knew him, had become a tradition at the College of William & Mary. The tradition included a lifetime of service distinguished by 65 years of bell ringing and a lasting place in the hearts of almost seven decades of students who graduated from the College. Of the thousands of persons who worked for the College from its chartered date of 1693, Henry Billups could boast the longest period of tenure.
"It is Henry Billups' relationship with the students at William & Mary which gives him his legendary status. Henry was affectionately known to the students as 'Doc' Billups. He was also referred to as 'Professor of Boozology' and 'student advisor.' Mrs. Clara Baker, an 88 year-old retired school teacher from Williamsburg/James City County system, remembered that Henry had a 'good relationship' with students. She said they always went to Henry for advice. In the Alumni Gazette for 1952, Henry is listed as 'student advisor.' In other publications, he is referred to as 'caretaker,' 'Fabled Bell Ringer,' and 'unofficial advisor.'"
Material in the Special Collections Research Center
1. Professor Harris graduated from Stillman College with a BA in 1969 and earned her MA and PhD degrees from The Ohio State University. She was an Assistant Professor of English at William & Mary, the first Black professor in a tenure line at William & Mary. In November, 1974, Professor Harris presented a paper on Henry "Doc" Billups at the Virginia Folklore Society meeting at the University of Virginia. She researched Billups and his life in Williamsburg on a faculty research grant during the summer of 1974.