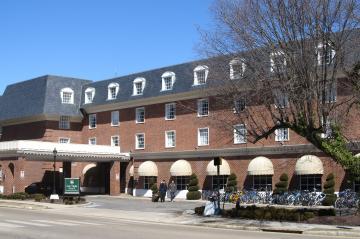 On March 22, 2013, William & Mary President Taylor Reveley announced the university would acquire the Hospitality House, a hotel located across Richmond Road from Zable Stadium, for student housing and other potential uses.
The text of the email sent by President Reveley: "Dear William & Mary Community,
I come with good news about the Hospitality House. As you know, it sits right across Richmond Road from Zable Stadium and the Alumni House. William & Mary is purchasing the hotel and its parking lot to become part of our campus. More student housing on campus and more parking are among our important space needs these days. We have very few open places left on our existing grounds to build major new facilities. Acquiring the Hospitality House will go far toward meeting these needs.
Much remains to be determined about how best to use the 318 rooms, 370 parking spaces, and various meeting, eating and entertaining spots in the Hospitality House. It will continue in normal operation as a hotel through Commencement weekend this May. The first student residents will move in next fall.
More information is available on W&M News, or by clicking here.
Cordially,
Taylor Reveley"
On April 19, 2013, the Board of Visitors agreed to rename the Hospitality House to One Tribe Place.
References