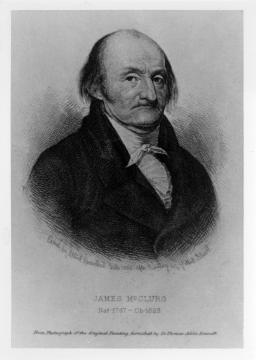 Dr. James McClurg was the first Chair of Anatomy and Medicine at William & Mary, serving from 1779 to 1784, when he left to go into private practice. He attended William & Mary in 1762 and went on to attended the University of Edinburgh, graduating with a degree in medicine in 1770.
McClurg was appointed the Chair of Anatomy and Medicine at the 4 December 1779 meeting of the Board of Visitors. He left the College in 1784 to return to private practice. After leaving the College of William & Mary, McClurg served as a delegate to the 1787 Constitutional Convention.
Material in the SCRC
McClurg, James. Experiments upon the Human Bile and Reflections on the Biliary Secretions. London, T. Cadell, 1772. Available in SCRC Rare Boooks Collection, call # QP197.M25.
Further Reading
Godson, Susan H, et. al., The College of William & Mary: A History, King and Queen Press, 1993. pg. 132, 133.
Biography of James McClurg National Archives and Records Administration, The Founding Fathers: Virginia, last reviewed September 29, 2016. Accessed February 16, 2017.