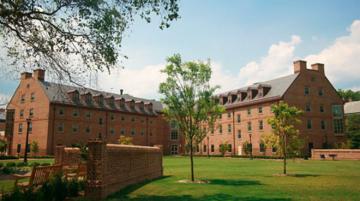 In 2004, William & Mary began a plan to construct two residence halls on the site of Barksdale Field at 700 Landrum Drive. Completed in 2006 at a cost of an estimated $29 million, the Jamestown Residences contain approximately 128,000 square feet of living space for students.
At its April 2016 meeting, the Board of Visitors unanimously approved a resolution renaming the residence halls in memory of two key figures in the university's African-American history. Jamestown North became Hardy Hall, in honor of longtime student affairs administrator Carroll Hardy. Jamestown South became Lemon Hall, in memory of Lemon, an enslaved man owned by William & Mary in the early 18th century and for whom the Lemon Project is named 1
References
Board of Visitors Records, Special Collections Research Center, Earl Gregg Swem Library, The College of William & Mary.
---