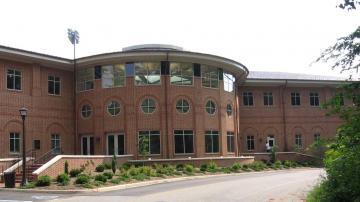 This project provided a new 27,000 GSF facility, which includes a team locker room with associated equipment and training rooms, coach's offices, and two 80-yard practice fields. The facility is located at 101 Gooch Drive, adjacent to the northwest corner of Zable Stadium.
Cost: $11 million
Fund Source - 9D debt & Private Funds
New GSF: 27,000
Start Date: November 2006
Finish Date: January 2008
Design Team: Moseley Architects
Contractor: W.M. Jordan Co.
Building Committee:
Steve Wasilefsky, Project Manager
Anna Martin, Vice President, Administration
Martha Sheets, Senior Planner
Robert Dillman, Associate Vice-President, Facilities Management
Wayne Boy, Associate Director of Facilities Planning, Design, and Construction
Dave Shepard, Associate Director of Maintenance/Operations, Facilities Management
Joseph Martinez, Deputy Associate Director, Facilities Planning, Design and Construction
Lynda Butler, Vice Dean and Chancellor, School of Law
Terry Driscoll, Director, Athletic Department
Robb Dunn, Associate Athletic Director, Facilities and Operations, Athletic Department
Jimmye Laycock, Head Football Coach, Athletic Department
Stephen Cole, Assistant Director for Health Services, Athletic Department
Andy Carter, Associate Athletic Trainer, Athletic Department
Jerry Fife, Head Equipment Manager, Athletic Department
Sarah Stafford, Student.Construction site
Material in the Special Collections Research Center
Archaeological survey of the proposed Jimmye Laycock football training facility, College of William & Mary, Williamsburg, Virginia, Birkett, Courtney J. Williamsburg, Va. : William & Mary Center for Archaeological Research, 2006. Archives Books call number: F234 .W7 B57 2006.
External Links
References