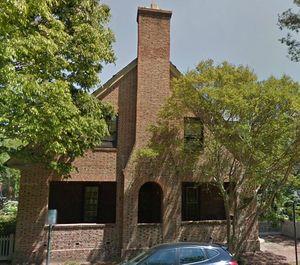 The Kappa Kappa Gamma House (also known as the Lacy Property) at William & Mary is located at 111 Richmond Road and is currently the house of the Kappa Kappa Gamma Sorority. 
In 1926, the property was purchased from T.A. Lacy: "All that certain lot of land, together with the buildings and improvements thereon, known as the Lively Lot, ... bounded on the north by what is known as the 'Blacksmith Lot,' on east by property of W.A. Hamilton, on west by property of Jackie Creasy." (Property: Sales/Purchases Deed Transactions, 1982.60; WMSBG. Deed Book 11-450, 9/23/1926)
The original house on the Lacy property was torn down and a new house built in the summer of 1927. A June 20, 1927 letter from architect Charles M. Robinson to President Julian A. C. Chandler regarding students' buildings called for a "Change of location to Lacy lot, additional baths, enlarged dormer and other increases ordered by you on the Lacy building..." (under Budget-Building Improvements and Construction, 1925-1930, Acc. 1982.45)
The first sorority to live in the house was Alpha Chi Omega, which first moved into the house in the fall of 1927. The rent from Alpha Chi Omega was $1,683.00. (Attached sheet "Lacy House $1,683.00, Julian A. C. Chandler to Col. Lane, Sept. 23, 1927, under Budget--Dormitory Housing--General, Acc. 1982.45) In August 1927, the Straw Hat noted that a brick house was being built for Alpha Chi Omega. (Straw Hat, 8/4/1927, 1) The July 1928 Straw Hat noted that the brick house built for Alpha Chi Omega was almost directly opposite the President's House. (Straw Hat, 7/5/1928, 3)
In the summer of 1929, Julian A. C. Chandler offered the house to Kappa Kappa Gamma. (Julian A. C. Chandler to Kappa Kappa Gamma, June 5, 1929, in Budget--Sorority Housing, 1927-1934, Acc. 1982.45) Prior to moving into this house, Kappa Kappa Gamma occupied a house that had been built as an extension onto Tyler Hall.
In the summer of 2012, a renovation of the house was possible through a gift of Sally Ives Gore '56. A ribbon cutting for the renovation was held on September 4, 2012.
References
Material in the Special Collections Research Center
Folder in the Student Organizations Collection, Special Collections Research Center, Swem Library, William & Mary.
Blueprints (Acc. 2010.613, Acc. 2010.619) in the Facilities Management Records, Special Collections Research Center, Swem Library, William & Mary.
The Flat Hat student newspaper; search the index available in the SCRC by person's name, student group name, event, or topical heading.
Colonial Echo yearbook
External Links