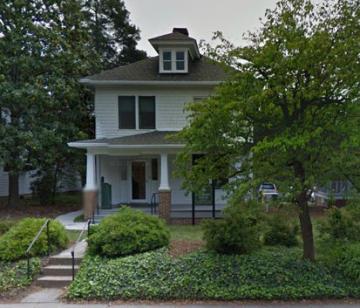 The Lambert House is located at 312 Jamestown Road, south side, across from Barrett Hall at William & Mary. It is a 2 story frame house built circa 1921. In 1923, the house was purchased by Nu Chapter House Corporation from Charles H. Matthews (July 23, 1923, UA. Acc. 1982.60 under Property Sales/Purchases). In 1933, it was purchased by William & Mary. (B.D. Peachy to J.A.C. Chandler, January 21, 1933, UA Acc. 1982.45 under Budget-Property; Deed Book 15, p. 398, June 15, 1933) From 1938-1939, it was used by Phi Alpha (1939 Colonial Echo). Kappa Sigma lived there from 1939-1940 (1940 Colonial Echo; UA Acc. 1979.35 under Fraternities, 1940-41-Report). As of 2016, the building houses the University Events Office and the Office of First Year Experience.
Material in the Special Collections Research Center
Photographs
1922-Colonial Echo, p. 209
1922, 1926, 1927-Colonial Echo, shown as Kappa Sigma House
References
University Archives Buildings File (2007), Lambert House, Earl Gregg Swem Library, The College of William & Mary.