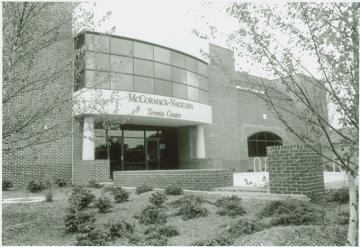 "Dedicated to excellence in academics and athletics, William & Mary in historic Colonial Williamsburg is proud to offer one of the finest athletic facilities in the country-the McCormack-Nagelsen Tennis Center. Located at 705 South Henry Street adjacent to the graduate housing complex, the McCormack-Nagelsen Tennis Center boasts impeccable tennis facilities and houses the Intercollegiate Tennis Association's Women's Tennis Hall of Fame.
"The facility was made possible through a generous gift from Mark H. McCormack, a 1951 graduate of William & Mary, and his wife, world-class tennis professional Betsy Nagelsen. As the former chairman, president and chief executive officer of International Management Group, McCormack was widely recognized as the founder of the sports marketing industry. The company represents such athletes as Pete Sampras and Monica Seles.
"The McCormack-Nagelsen Tennis Center features six indoor tennis courts using the GreenSet GrandPrix Surface (rubberized base under color coat), air conditioning and indirect lighting at a competitive level. The facility also includes member and team locker rooms, several spacious lobbies and spectator viewing that boasts 362 stadium seats as well as a mezzanine seating area. In addition, the ITA and Rolex generously donated a state-of-the-art electronic scoreboard.
"The Intercollegiate Tennis Association's Women's Tennis Hall of Fame contains a collection of artifacts and records pertaining to collegiate women's tennis, and enshrines former players, coaches and contributors that have impacted the sport. The Hall of Fame also functions as a library, archive and research center for intercollegiate women's tennis."