Construction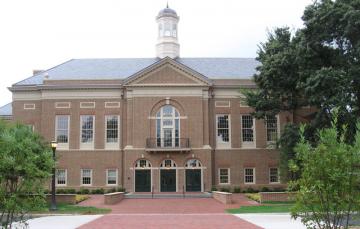 The Common Glory Parking Lot at the intersection of Jamestown Road and Ukrop Way closed on April 30, 2007, to make way for the Mason School of Business' new building, Alan B. Miller Hall.2 Construction was completed in the summer of 2009 and the School of Business moved into Miller Hall in June and July.
Information about the building project from Facilities Management:
Public-private partnership: The College of William & Mary and the Business School Foundation
7 years of planning, analysis and design
24-month construction schedule
Gross space: 163,000 sq. ft.
Total project cost: $75 million

$50 million private funds from Business School Foundation
$25 million from the College
cost covers design, construction, furniture, information technology, and audiovisual costs

Sustainable building: seeking LEED (Leadership in Energy and Environmental Design) silver level certification
Occupancy:

Graduate Business Programs (MBA)
Undergraduate Business Program
Executive MBA Program (EMBA)
Masters of Accounting (MAcc)
Center for Corporate Education (CCE)
Center for Entrepreneurship
administration
faculty
staff

Student population expected at move-in:

Undergraduates: 550 plus 75 sophomores in accounting and statistics
Graduates: 410 (includes 3 MBA programs, plus EMBA and MAcc)

Fully wired and data-ready building
Architect: Robert A.M. Stern Architects, LLP
Construction Manager: Whiting-Turner 3
A variety of construction updates are available from the YouTube channel of the School of Business, WMSchoolofBiz, and are titled "Rex Unplugged..."
Gates
The gates that formerly marked the entrance to the Lake Matoaka Amphitheatre are presently being restored (as of October 2007) and will be returned as part of the School of Business construction project. The gates were damaged by the contractor when they were removed and plans were made to have the gates repaired by a blacksmith. One of the School of Business' "Rex Unplugged" videos is about the gates.
External Links
In the News