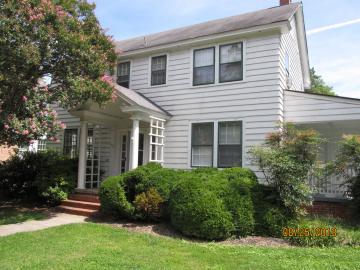 Location: 195 Armistead Avenue at the corner of Richmond Road
probably built c.1898
Cottage-151-153 Richmond Road
House - 155 Richmond Road
House - 195 Armistead Road
c.1901--Moncure House, 2 story frame with turret on S.W. Corner, on site of present Kappa Alpha Omega House, Lot #7 (Blitzer) (Colonial Echo, 1902, p. 163)
Moncure Cottage (153 Richmond Road) 2 story frame with double porch, Lot #6, 27' x 60' (Colonial Echo, 1902, p. 163)
1926--Moncure property purchased (BofV, November 1926, p.149)
Purchased from Blanche E. Moncure for $10.00, August 26,1926(1983.70 under Razing of Houses)
1927--Moncure House on corner, Richmond Road, to be renovated and rented to Chi Omega (1927-1929).
Moncure Cottage next door to be remodeled into 2-family apartment for faculty (Straw Hat, 8/4/1927, 1).
1929-30--House rented to Delta Delta Delta (1929-1931)(JAC Chandler to Pauline Shewmake, May 29, 1929, 1982.45 under Students-Fraternities and Sororities)
1931--Moncure House destroyed by fire Feb. 10,1931 (FH, 2/13/1931,p1)
to be rebuilt (FH, 3/20/1931, p 1)
1932--present Kappa Alpha Omega House (Blitzer House) built on site of Moncure House (155 Richmond Road) at a cost of $30,000 (BofV, December 1932, p. 37)
1974--1975 Armistead Avenue (built c. 1926) purchased. Four bedroom house and an adjoining apartment, to be renovated for student housing (BofV, May 1974, p. 237; Nov. 1974, p. 319; April 1975,p. 397)
1977--Cottage used for law school and legal services
1983-1984/1985-1986--Sigma Nu House, 195 Armistead Avenue (FH, 1/21/1983, 3; FH, 9/12/1986, 3)
1987-1988--International Studies House, 195 Armistead Avenue (WMN, 8/26/1987, 1)
2013 - Housing for Upper Classmen
Photographs
1902-Colonial Echo, p. 163
1913-Colonial Echo, p. 59
References
University Archives Buildings File (2007), Moncure House, Earl Gregg Swem Library, The College of William & Mary.