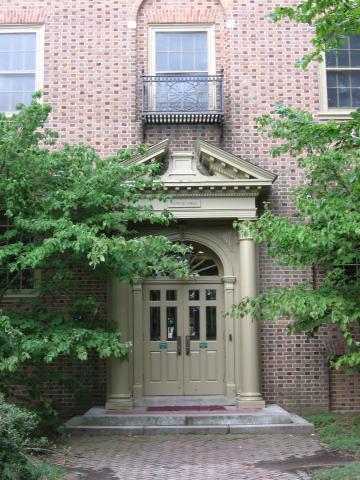 James Monroe Memorial Hall, commonly referred to as Monroe Hall, is located at 226 Richmond Road, northwest of Tucker Hall on the campus of William & Mary. It currently serves as a co-ed dormitory for freshmen, including Monroe Scholars. It was named for James Monroe, William & Mary class of 1778.
William & Mary received an $80,000 appropriation from the state to build a new men's dormitory provided that the College could raise an additional $120,000. Charles M. Robinson was chosen by the Board of Visitors to draw up the plans for the dormitory. The hall was constructed between 1923 and 1924 by J.C. Curtis, Contractor, at a total cost of $171,000 and opened in September 1924. The plan was Monroe Hall was similar to the plan for Jefferson Hall save for the absence of a gymnasium. Monroe Hall also had an attic, unlike Jefferson Hall. The dormitory was able to accommodate 168 men. Monroe Memorial Hall was featured in The Romance and Renaissance of the College of William & Mary (1924) including p. 18 and others.
Memorial rooms were listed at the building's dedication on June 9, 1925, which featured John S. Bryan as a speaker. Twenty-one rooms on the first floor were memorialized to men of the Colonial period, twenty-eight rooms on the second floor were memorialized to College graduates after the Colonial period, and twenty-eight rooms on the third floor were memorialized for distinguished men from certain counties of Virginia.
A small post office for Monroe Hall and Old Dominion Hall was located in Monroe Hall from 1928 until March 1929, when a larger post office opened in Citizenship "A" of the Old Gymnasium. An airport pointer and meridian marker were painted bright yellow with a black background on the roof of Monroe Hall in 1931 to illuminate the roof for night flyers. The meridian marker measured 25 feet by 5 feet, the airport pointer was composed of a circle 17 feet in diameter and 50 feet in circumference, an arrow measuring 5 feet by 5 feet, and a figure one measuring 6 feet by 2 feet.
The hall became a freshman dormitory in 1935, and the east end of the first floor was opened up and converted into a reception room and game room, as well as an apartment for the hostess of the hall. The Navy Chaplain's house was located on the first floor in 1943. The dormitory was briefly used by women in 1945 and then went back to men's housing for the 1946-1947 school year. The building was renovated from March through November 1975.
References
University Archives Buildings File (2007), Monroe Hall, Earl Gregg Swem Library, The College of William & Mary.