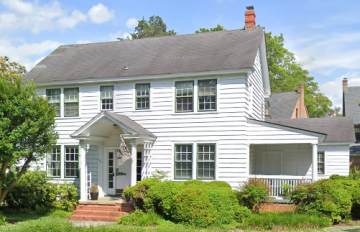 The Mullen House of William & Mary is located at 197 Armistead Avenue, on the east side. It is the home to the Delta Phi. Omega Alpha Chapter fraternity. The house was built between June 1920 and March 1924 (Aerial photos).
1929--The Board of Visitors authorizes purchase of "the house belonging to Miss Geneva Mullen, which adjoins our property that extends from Richmond Road to Prince George Street at the sum of $12,000,..." (J.A.C. Chandler to Harry F. Byrd, June 12, 1929 in 1982.45 under Budget-Property)
Purchase authorized by Governor June 14, 1929..."a house and lot, the property of Miss Genevieve M. Mullin." (E.R. Combs, Comptroller to J.A.C. Chandler June 18, 1929)
Purchased June 29 (Consolidated Land Register; Deed Book 13 p. 538)
Material in the Special Collections Research Center
References
University Archives Buildings File (2007), Mullen House, Earl Gregg Swem Library, The College of William & Mary.