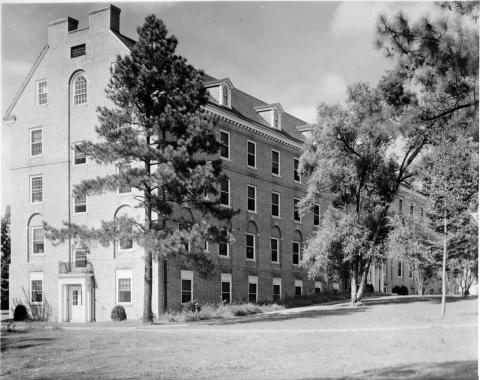 Old Dominion Hall is an upperclassman, co-ed dormitory located at 201 James Blair Drive, across from James Blair Hall at William & Mary.
William & Mary made a contract with J.T. Nuckols of Richmond to build a men's dormitory on the west side of Blow Gymnasium. The total cost of construction was about $250,000. The College planned for the rooms of Old Dominion Hall to bear the names of counties and cities of Virginia as well as honored citizens of those counties. The blueprints showed 58 single rooms and 41 double rooms, 12 of which had connecting baths. The dormitory was completed in 1927.
In 1931, the College painted "Williamsburg" in bright yellow letters with a black background on the roof of Old Dominion Hall to aid aviators. These letters were illuminated at night to aid night flyers. The letters measured 19 feet by 15 feet each, with 3 feet between each marker.
The basement of the dormitory was renovated in 1937. It was formerly used as quarters for visiting athletic teams but was transformed into a game room and canteen. Two lounges were installed on the first floor and the fourth floor served as room for visiting teams.
Old Dominion Hall became a dormitory for the Navy Chaplain's School in March 1943 during World War II. Four of the rooms were used for Catholic services with Spotsylvania Hall reserved for private devotion. The Chaplain's School closed in 1945 and the dormitory was used for student housing once more. A group of 50 men were housed "barracks style" on the fourth floor in 1947.
A post office was installed in the basement of Old Dominion Hall during the summer of 1972 but did not open until December 1 of that year. The building underwent renovations in 1974 and became a co-ed dormitory at the start of the 1983-1984 school year.
References
University Archives Buildings File (2007), Old Dominion Hall, Earl Gregg Swem Library, The College of William & Mary.