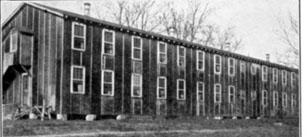 The Penniman Building was located between the Power Plant and the Tyler Annex, south of the Dining Hall.
1920 Board of Visitors' minutes indicate that one of two building purchased at Penniman was to be moved from Penniman and relocated to campus for use as a men's dormitory. In 1921 the hotel at Penniman was bought to be moved to campus behind the Dining Hall. One wing was used for the Biology Department as 5 laboratories and 1 lecture room. Another wing housed a 150-student dining hall to be connected with the kitchen via a covered passageway. 1921--Hotel at Penniman bought and will be moved to campus, erected back of Dining Hall. A third wing was for a 50-student dormitory.
In 1924 the second floor of the Penniman Building was converted into a freshman dining hall.
The Penniman Building was destroyed by fire on June 18, 1925.
Material in the Special Collections Research Center