"One of the finest collegiate baseball facilities in the region, Plumeri Park has been home to William & Mary Tribe baseball team since 1999. The facility was constructed in large part due to the generous donation by Mr. Joseph J. Plumeri II in the autumn of 1996.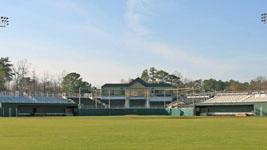 "The 1,000-seat lighted facility includes a grandstand, team locker rooms, press box, concession space, dugouts and covered and outdoor batting cages. A state-of-the-art scoreboard was added prior to the 2005 season. This fall, further improvements were made, including the addition of a 10-foot artificial turf halo behind the home plate area, bi-level wooden benches in the dugouts, natural grass base lines on each foul line and stadium padding on the backstop.
"Plumeri Park is a baseball-only facility, and its primary use is by the Tribe program. However, each year the park hosts several high school showcase tournaments.
"The facility complements the architectural style of other William & Mary buildings and was publicly dedicated on Saturday, March 20, 1999 when William & Mary hosted Penn State. The Tribe opened its new home with a victory, defeating the Nittany Lions, 16-10.
"A graduate from the Class of 1966, Plumeri has been an active and devoted alumnus for many years. He is a member of the governing Board of Visitors, the Business School Advisory Board and the Sir Robert Boyle Society. Additionally, he is a lifetime member of the President's Council and a trustee emeritus of the William & Mary Endowment Association.
"Plumeri's business career, spanning some 38 years, is marked by one success after another. In management positions at such financial services companies as Travelers Group, Primerica Financial Services, Citibanking North America, Salomon Smith Barney and now Willis, Plumeri has been continuously recognized for his expertise in strategic marketplace analysis, innovative operational methods, and his ability to motivate large organizations to deliver growing earnings through increased revenue and expense discipline.
"Plumeri has funded the Joseph J. Plumeri Business Scholarship, Joseph J. Plumeri Endowment Fund for baseball scholarships and several annual baseball scholarships. He has also made significant contributions to the College's business school, which has enabled an innovative course of study for its students in the MBA program.
"For 18 years, Plumeri has also funded the W&M/Plumeri Pro-Am Golf Tournament, which has raised more than $500,000 for Tribe athletics.
"While an undergraduate at the College, Plumeri was active in athletics. He was a member of both the Tribe football and baseball teams. Baseball proved to be a lifelong love, and he and his family own two minor league baseball teams.
"Following the announcement of the gift, William & Mary Director of Athletics Terry Driscoll said that Plumeri Park will be the only facility of its type in the area between Richmond and Norfolk, and as such will have a substantial impact not only on William & Mary baseball but on the community as well."
Plumeri Park is adjacent to Albert-Daly Field in the Dillard Complex.