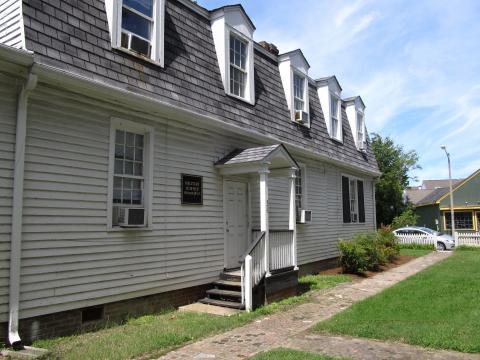 The Prince George House at William & Mary is located at 524 Prince George Street in Williamsburg, Virginia. The building was formerly known as Brown Hall. Though the paper trail suggests it was built in 1717 or possibly earlier, paint analysis suggests ca. 1790 as the date of construction (a slim possibility exists that it was built in the 1740's; further paint analysis will explore that possibility). The structure also took another former name, the Digges House, from Dudley Digges, a local member of Bruton Parish Church, who was an uncle to the famous Revolutionary War hero Dudley Digges of Yorktown. Between 1760 and 1765, the house, if indeed it was built in the 1740's, may have been used by English philanthropists, the Associates of Dr. Bray named for Thomas Bray, to Christianize local enslaved and free black children.
 In 1926, the house was bought to be used as a dormitory for Methodist girls attending William & Mary. The building was renamed Brown Hall in recognition of the major benefactors, Mrs. Jane Brown and Cornelia Brown, members of a prominent Methodist family. Brown Hall had enough space to accommodate 12-14 girls.
"On Boundary Street back of the Methodist Church is located a new dormitory for girls, Brown Hall, which accommodates fourteen girls and the matron...built from the proceeds of the Dyson estate as a memorial to a very prominent Methodist family, the Browns."
"Plans are being carried out to take care of more girls by adding new bedrooms and enlarging the living room. In addition to this hall the Methodists are planning for a new brick dormitory to house 100 girls. This will be situated between Brown Hall and the new Methodist Church," (The Flat Hat, 10/1/1926, 8)
In 1930, with the approval of the Board of Visitors, William & Mary agreed to buy the house and move it to its present location on Prince George Street. "Brown Hall was established in 1924 and was sold this year to William & Mary College and moved to a new site on Prince George Street. The building was originally the home of Dudley Digges, but now that of William S. Gooch." ("Old building accommodated 12, new one 74, 48 have private baths," The Flat Hat, 9/26/1930), 4).
After 1939, the house was sometimes called Old Brown Hall, Brown Hall Annex, or, more recently, Prince George House. This was after the Methodists built the present Brown Hall at the corner of North Boundary Street and Prince George Street, which the College bought in 1939. From 1940 to 1988, the building was used to house both faculty and students. In 1988, the university began using the building to house its Military Science Department and ROTC.
References
"This Old House: Moved, Mislabeled, and Misplaced, Building at the College dates to 1700s,", Terry Meyers, The Virginia Gazette, 2004/6/19, pp. 1A, 12A-13A.
University Archives Buildings File (2007), Dudley Digges House, Earl Gregg Swem Library, William & Mary.
In the News
External Links