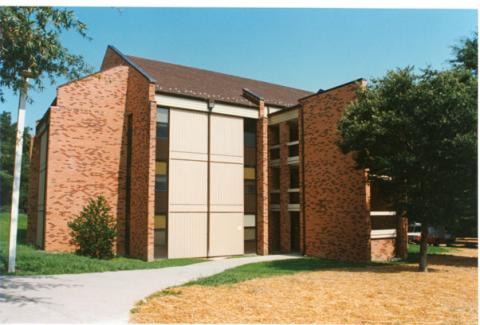 The Randolph Residences, also known as the Randolph Complex, are located at 500 Ukrop Way (formerly Campus Drive) east of the Commons on the campus of William & Mary. All of the buildings in the complex are named for Virginia governors: Giles, Pleasants, Harrison, Page, Tazewell, Cabell, Nicholas, and Preston. The complex itself is named for the four Randolphs, all graduates of William & Mary, who served as governors of Virginia: Edmund Randolph (1753-1813), Beverly Randolph (1754-1797), Peyton Randolph (1779-1828), and Thomas Mann Randolph (1768-1828). 
Construction of five of the buildings (four dormitories for housing 246 students and one building for activities) was completed in July 1980. In the same year, five sorority court houses underwent renovation and the women previously living in those houses occupied Giles and Pleasants for the first semester of the 1980-1981 academic year. The dedication ceremony for the Randolph Residences was held on October 11, 1980 at Tazewell House on Parents' Weekend.
Pleasants and Giles consist of small clusters of eleven double rooms and two single rooms grouped around two large living room areas joined by an open kitchen. Page and Harrison consist of forty single rooms on five separate floors, each floor sharing a bathroom, kitchen and living room. Cabell is a three-story apartment building with two bedrooms, kitchen, bath, and living/dining room in each apartment. Tazewell is a small activities building equipped with a TV, lounge, laundry, fireplace, and games.
Two new dorms, Nicholas and Preston, were built in 1988 to house 106 more students. Nicholas is a smaller version of Cabell, with three floors of apartment-style rooms, and Preston is located west of Giles Hall.
Preston Hall Fire
There was a fire in Preston Hall on May 3, 2005, sparked by an exhaust fan. Some students began the next school year living at Colonial Williamsburg's Governor's Inn.
Material in the Special Collections Research Center
Colonial Echo, 1980, p. 26, p.63.
Preston Hall Fire Photographs, University Archives Photograph Collection, Swem Library, The College of William & Mary.
External Links