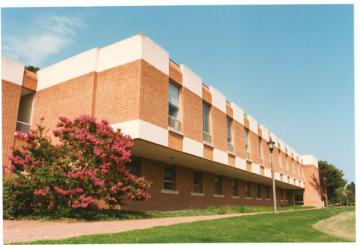 Rogers Hall is located on Landrum Drive (formerly Old Campus Road) across from Landrum Hall on the campus of William & Mary. Construction of the building began on October 22, 1973 and was scheduled for completion on March 25, 1975. The building was constructed by Cocharan Construction Co. and designed by Wright, James, and Wilkerson Architects to house the Chemistry, Philosophy, and Religion Departments. Labs were set up and the building first used by August 25, 1975. William Barton Rogers Hall was dedicated at homecoming that year. Upon completion of this building, the building currently known as Tyler Hall was called Old Rogers Hall.
A lecture hall wing was built in 1979-1981. The William George Guy Lecture Hall was dedicated on April 24, 1981. The Religion Department moved into the first floor of Rogers Hall and the Philosophy Department moved out (to the Wren Building) the summer of 1980.
Rogers Hall was renovated in 2008 as part of the Integrated Science Center (ISC) construction and renovation project. It was completed in 2009 and houses the remainder of the biology and psychology departments. It is known as ISC 2.
"The Romance and Renaissance of the College of William & Mary in Virginia" (1924) includes a proposal for the construction of the William Barton Rogers Science Hall to replace the Penniman Building. A sketch of the proposed building by architect Charles M. Robinson dated 1921 is included in the publication. That building is the present Tyler Hall (formerly Chancellors Hall) on the Sunken Garden.
Material in the Special Collections Research Center
1974-construction, Flat Hat, 9/7/1974, p. 17
References
University Archives Buildings File (2007), Rogers Hall, Earl Gregg Swem Library, The College of William & Mary.
"The Romance and Renaissance of the College of William & Mary in Virginia," Endowment Association, 1924, p. 20-21.