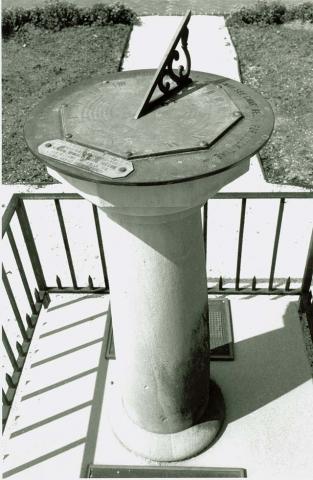 The William & Mary sundial was probably made in London during the seventeenth century or early eighteenth century. Scientific measurements of how lines on the dial by Dr. George W. Crawford, Professor of Physics Emeritus, prove it was engraved for use in the vicinity of Williamsburg and most likely for William & Mary when it was chartered or soon thereafter to provide local time for residents in an age when a sundial was necessary to reset or adjust the timing of a clock or watch. Subsidiary dial rings simultaneously give the local time for six world locations indicating the sundial was made with a cultural or "world-view" intent.
The earliest authenticated reference to the sundial indicates it was located on a wooden pedestal in front of the President's House on April 15, 1815. It was removed during the Civil War by Union Chaplain William H. Gilder for protection and returned in 1889. In 1912 it was moved behind the Sir Christopher Wren Building between Science Hall and the library and placed on a sandstone pedestal, a gift of The Flat Hat staff, to commemorate the first year of its publication.
In 1971, at the request of President Davis Y. Paschall, Professor Crawford, who had suggested a sundial for the New Campus Mall, restored the historic sundial by making a new gnomon to replace the missing original, which had been stolen soon after 1953, and supervised its relocation in the New Campus Mall. In 1975, when Professor Crawford had succeeded in making a bronze replica of the sundial for the new location, the original was placed in Swem Library (in the then Zollinger Museum on the ground floor adjacent to the Botetourt Gallery) on a walnut pedestal Crawford had made and donated to the College. It is currently on display in the Special Collections Research Center's reading room in Swem Library.
The Sundial is part of the University Archives Artifact Collection, UA 13.
Images are available at http://www.flickr.com/photos/scrc/462231203/ and http://www.flickr.com/search/?q=sundial&w=7349747%40N02.
Replicas
Replicas of the sundial may be found in front of Swem Library, at the Law School (unveiled in 1998), and at the Alumni House (gift of class of 1937).
Material in the Special Collections Research Center
External Links
Replica sundial at the Law School on Flickr.
Sundial in the Special Collections Research Center, Swem Library and the replica in front of Swem Library on Flickr.
Photographs of the sundial from others on Flickr.