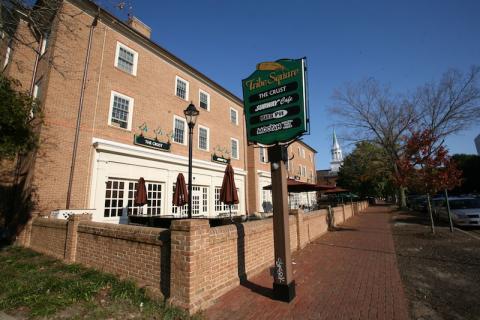 Tribe Square, located across Richmond Road from Blow Memorial Hall and next to Wawa opened in the fall of 2011. Tribe Square offers 56 upper level students a unique living opportunity at William & Mary.
Tribe Square is comprised of 14 apartments. Each four-bedroom, two-bath apartment consists of private bedrooms with a shared living space. Each bedroom includes a full size mattress and bed, study desk and chair, chest of drawers, and closet space. Each apartment has a walk-in kitchen with a refrigerator, range/oven, microwave, and dishwasher. The living/dining area includes a table with four chairs, sofa, coffee table and an end table.
Tribe Square residents lease their spaces for 11 ½ month, beginning with the opening of summer session one and ending the day after Commencement in the spring semester, and billed in three installments. Subletting is not permitted. Unlike other residence halls, Tribe Square is open during the Thanksgiving and Winter breaks. Just below the residential space are four dining establishments which students and the Williamsburg community enjoy.