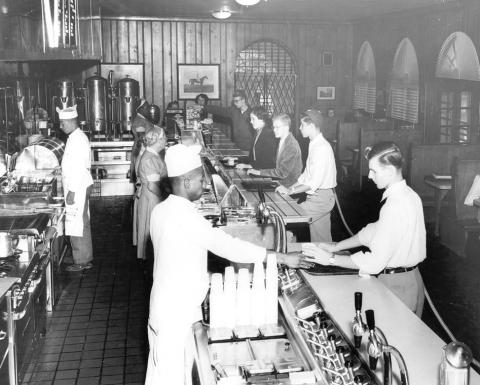 The Wigwam or WigWam was located in the Campus Center (then known as Trinkle Hall) from about 1942 through 1986. The Wigwam served as a bookstore, soda shop and coffee shop. In the 1980s beer was sold during backgammon tournaments, musical performances, and movies on a wide screen.
In April 1963 the Wig Coffee Club had a gala opening with "dim lights, a hootenanny, a floor show and refreshments" (The Flat Hat, 04/19/1963, p.1). By October, 1974, the Wigwam was used mostly by faculty and alumni (The Flat Hat, 10/18/1974, p.4). In September 1976, "later hours, an expanded menu, and the sale of beer have been added to the operation of The Wigwam cafeteria in an effort to increase student use of the Campus Center facility" (The Flat Hat, 09/03/1976, p.15).
Also referred to as The Wig, it was "The Alternative Nightspot" in the 1980s for music and dancing and "happy hour." A small fire in November 1982 closed the 'Wig" for a week. The 'Wig' closed in 1986. The Marketplace, a popular dining facility, opened in the Campus Center that year on September 15 and took up spaces formerly occupied by the Wigwam and Colony Rooms.
References