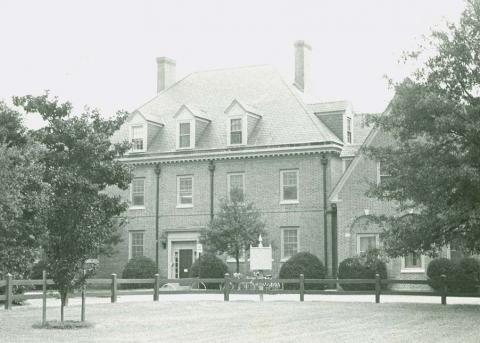 Willis Hall, named for Hulon L. Willis Sr., the first African American to enroll at William & Mary, is a residence hall located on Jamestown Road between the Campus Center and the former Bookstore (that became the Admissions Office in 2007). It was originally named for William Booth Taliaferro, who attended William & Mary and served on the Board of Visitors from 1890 to 1898, including eight years as its rector. Taliaferro also served as a Confederate officer in the Civil War.
The building has served as a dormitory, bookstore, and tea room since its completion in June 1935. Plans for the building were first presented to the Board of Visitors in 1931, who approved of the plans and accepted a bid from J.W. Davis of Newport News for $62,810. The architect hired to design the building was J. Binford Walford. In 1934, the contract for the project was awarded to Peters Construction Co. of Newport News. The construction of the building was made possible by a Public Works Administration (PWA) grant and loan of $650,000. In keeping with tradition, the building was designed to mimic the Georgian architecture of its neighboring structures. It replaced the Taliaferro Building and served as a men's dormitory, but in 1978, it became the first co-ed freshman dormitory. The building can house up to 60 students. In 1986-1988, Willis Hall housed freshmen designated as Presidential Scholars.
In 2021, William & Mary changed the name of this building from Taliaferro Hall to Hulon L. Willis, Sr. Hall, in honor of the first African American student to enroll at William & Mary.
Willis, a World War II veteran, enrolled at William & Mary in 1951 after earning a bachelor's degree in physical education from Virginia State University. After receiving his master's at William & Mary, he became a health and physical education professor at Virginia State University and directed that university's campus police.
Willis led the way for all of the African-American students who attended William & Mary after him, including his son Hulon Willis Jr. '77, daughter Kimberly Willis Miles and granddaughter Mica Willis '12.
The Alumni Association's organization for alumni of Black and African descent is named for Willis, as is a book collection in the School of Education. William & Mary commemorated the university's African-American history in 2017 when it marked the 50th anniversary of the university's first African-American students in residence. A dedication for Willis Hall was held on Oct. 9, during William & Mary's Homecoming & Reunion Weekend in 2021.
References
University Archives Buildings File (2007), Taliaferro Hall, Special Collections Research Center, Earl Gregg Swem Library, The College of William & Mary.
External Links