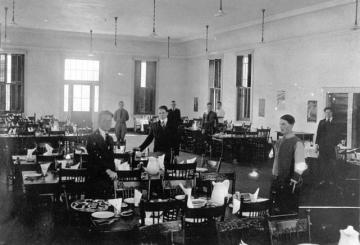 The Dining Hall that opened in 1914 was a large, one-story brick building that cost about $10,000 to construct. The main dining room of the dining facility was spacious and well-lit, with a seating capacity for approximately 250 people. There was a private dining room in the rear of the facility with a pantry and a commodious, well-equipped kitchen. The kitchen had a six-unit range, a food elevator, a tea and coffee urn, six or eight steam vegetable and meat cookers, as well as an improved dish washer. In the basement was a storeroom, a refrigerator, a bake room, and a bread mixing room with a power bread mixer.
There were a few dances held in the Dining Hall in 1920. A proposal for a new dining hall to be named Commonwealth Hall was included in the fundraising publication The Romance and Renaissance of the College of William & Mary in Virginia. In 1925, the kitchen was damaged in a fire which destroyed the Penniman Building behind the dining hall. Governor Trinkle authorized the construction of a new dining hall after the fire (see Trinkle Hall). The Dining Hall has been incorporated into the Campus Center, and the present Marketplace serving area and the Atrium have replaced the old Dining Hall.
Photographs
1916--Colonial Echo, p. 10
Taps, interior p. 22
Exterior and aerial photographs in the Paul Essex Judson Papers, Special Collections Research Center, Swem Library, William & Mary. Also includes the Deanery and Tyler Hall.
References
"The Romance and Renaissance of the College of William & Mary in Virginia," College Development. Endowment Association, Box 23, Folder 2, 1924, p. 23.