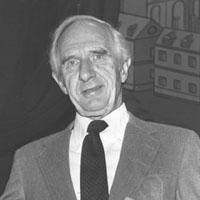 William & Mary Interim President: George R. Healy
Term Served: January 10, 1985 - June 30, 1985
Preceded by: Thomas Ashley Graves, Jr. 1971 - 1985
Succeeded by: Paul R. Verkuil 1985 - 1992
George R. Healy was a past faculty member at William & Mary serving as: Professor of History, 1971-1986; Vice President for Academic Affairs, 1971-1983; Provost, 1979-1986; Acting President, 1985; Professor of History, Emeritus, 1986-; and Acting Director of the Institute of Early American History and Culture, 1990-1992. Healy received the Thomas Jefferson Award in 1987.
Healy assumed the role of acting president after Thomas Ashley Graves, Jr. resigned to assume leadership of Winterthur Museum and Garden in Wilmington, Delaware on January 9, 1985, and before Paul Verkuil assumed the presidency on June 30, 1985.
Healy graduated from Oberlin College in 1948, later attending the University of Minnesota for his MA (1951) and Ph.D. (1955). As a historian, Healy specialized in the intellectual history of 18th-century France and translated Montesquieu's Persian Letters. Prior to his career at William & Mary, Healy taught at the Massachusetts Institute of Technology and Bates College, where he also served as dean of faculty and provost.
Healy was the College's first provost, replacing retiring Academic Vice President Melville Jones in 1971. As provost, Healy was noted for strong fiscal stewardship during a time of notable budget constraints as well as for his unusually eloquent memoranda. In the fall of 1985, Healy oversaw the brief cancellation of classes and postponement of Parents' Weekend in preparation for Hurricane Gloria.
Healy died July 8, 2010. Professor David L. Holmes, in his talk at Healy's October 24 memorial service, said "Today, when we talk to professors who knew George Healy, we hear certain words repeated again and again--words such as dedication, and decency, and tolerance, perseverance, lack of pretention--and above all, the words integrity and honor....George Healy was thoroughly honorable. He was always generous to people with whom he disagreed. He did not deal in condemnatory words or in ad hominem attacks. He did not challenge the good faith of others....We were fortunate when George Healy came from Bates College to William & Mary in 1971. We were fortunate when George brought along his marvelous wife, Dorothy. We...were...lucky."
Obituary Announcement
The following was sent by President Taylor Reveley on October 11, 2010 via a William & Mary Faculty and Staff email:
"Dear Colleagues,
"There will be a memorial service for George Robert Healy on Sunday, October 24, 2010 at 1 p.m. in the Wren Chapel, with a reception thereafter in the Great Hall.
"Dr. Healy was the College's Acting President in 1985, Provost from 1979 to 1986, and Vice President for Academic Affairs from 1971 to 1979. George was a vital part of William & Mary for many years. This is an occasion to join in remembering him and his time among us."
Material in the Special Collections Research Center
George R. Healy, Special Collections Research Center, Earl Gregg Swem Library
In the News
Articles from The Flat Hat are available from the W&M Digital Archive.

Chosen to replace Jones as new Academic VP (Flat Hat, 9/4/1971, 15.)
Reviews general first impressions of W&M (Flat Hat, 9/24/1971, 1.)
Vice president for academic affairs (Alumni Gazette, October 1971, 6. [picture])
Attends meeting at MIT (C, 3/2/1971, 6.)
Explains reorganization (Alumni Gazette, Aug. 1974, 9.)
Memo explaining Buckley Amendment (William & Mary News, 11/26/1974, 6.)
Attending launching ceremonies at the Newberry Library (William & Mary News, 6/29/1976, 3.)
Report to National Development Council (Alumni Gazette, May 1977, insert 4.)
Makes opening remarks at Conference on Nuclear and Space Radiation Effects (William & Mary News, 7/19/1977, 2.)
Pictured (Alumni Gazette, August 1977, 1.)
Participates in "New South" television series (William & Mary News, 11/29/1977, 2.; Alumni Gazette, December 1977, 1; Flat Hat, 12/2/1977, 1, 2.) 1
Accepts Livingston's resignation as dean (Alumni Gazette, March 1978, 8.)
Opts for Currie (Alumni Gazette, April 1979, 6.)
Denies Rigelman tenure (Flat Hat, 4/4/1980, 2 [picture])
Pictured (Alumni Gazette, March 1981, 32.)
Ranking scholars (William & Mary News, 5/17/1983, 3 [picture])
Announces resignation (Flat Hat, 12/2/1983, 1.)
President announces plans to resign (Alumni Gazette, December 1983, 2 [picture])
Departure marks end of era for College (Flat Hat, 11/9/1984, 2 [picture]) 
To serve as interim president (William & Mary News, 12/14/1984, 1 [picture])
To stay until June 30, 1986 (William & Mary News, 1/10/1985, 1.)
To stay another year (Alumni Gazette, March 1985, 3. [picture])
Will make opening remarks at symposium devoted to "The Crises of Transition in Africa." (William & Mary News, 10/2/1985, 1, 2.)
Intends to retire from provost position this spring (Flat Hat, 11/22/1985, 6.)
Plans to retire this spring (Flat Hat, 3/21/1986, 3 [picture])
College salutes years of service (William & Mary News, 4/30/1986, 4 [picture])
"North to Alaska" (Alumni Gazette, Winter 1987, 26-28 [pictures])
Receives Jefferson Award (William & Mary News, 2/11/1987, 5, 6 [picture]; Flat Hat 2/13/1987, 1, 3.)
Upholds tradition (Flat Hat, 2/27/1987, 9, 10.)
Receives the Thomas Jefferson Award (Alumni Gazette, March 1987, 1 [picture])
Named president of Longwood College (William & Mary News, 6/3/1987, 2.) (Healy was named to a one-year term as interim president)
Two W&M retirees now guide fortunes of Old Dominion University (William & Mary News, 2/1/1989, 4 [picture]) (Healy was named interim Executive Vice President of ODU)
Who's in charge here? (at ODU) (Alumni Gazette, March 1989, 18.)
Heads Institute of Early American History and Culture (Alumni Gazette, December 1990, 15.)
Charter Day activities (William & Mary News, 2/6/1991, 5 [picture])
Memorial Service for wife in Wren chapel (William & Mary News, 1/16/1998, 2.)