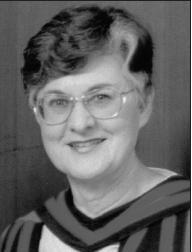 Gillian T. Cell was Provost of William & Mary from 1993-2003. She was a professor of history during the same time period, and received the Thomas Jefferson Award in 2003.
Material in the Special Collections Research Center
References
In the News
The Flat Hat is available online, while the Alumni Gazette and William & Mary News are available in Swem Library.
"Cell Named College's First Female Provost" the Flat Hat, 4/30/1993, 1
"Lafayette College's Gillian T. Cell appointed provost" William & Mary News, 5/5/1993, 1, 6 (picture)
"Lafayette College provost appointed as new W&M provost" Alumni Gazette, May/June 1993, 18 (picture)
"At opening convocation" William & Mary News, 9/1/1993, 1 (picture)
"Provost to outline future" the Flat Hat, 10/1/1993, 2 (picture)
"Forum garners opinion" the Flat Hat, 3/25/1994, 1, 6 (picture)
"Leader, scholar, role model" Alumni Gazette, Summer 1994, 11 (picture)
"Cell defends plan's attributes" the Flat Hat, 9/21/1994, 3
"Speaks to Faculty Assembly about planning" the Flat Hat, 9/9/1994
"Strategic Plan nears completion" the Flat Hat, 10/21/1994, 1, 4 (picture)
"Submits Strategic plan to Sullivan" the Flat Hat, 10/28/1994, 1, 7 (picture)
"Reads stories at day care center" the Flat Hat, 4/28/1995, 9
"Curriculum must change" William & Mary News, 11/21/1996, 4 (picture)
"Attends Mid East Conference" the Flat Hat 11/21/1997, 5
"Moderates discussion at Peace Conference" William & Mary News, 11/21/1997, 1,2 (pictures)
"Professors speak out on diversity issues" (publication not recorded) 9/18/1998, 1, 6 (pictures)
"Charter Day" William & Mary News, 2/18/1999, 1, 7 (picture)
"Recalls childhood and Nazi bombing" William & Mary News, 10/14/1999, 4 (pictures)
"College to hear new ARIA" William & Mary News, 4/13/2000, 1-2 (picture)
Obituary
From a Faculty and Staff Announcement Email from President Taylor Reveley on September 10, 2012:
"Dear Colleagues,
With great sadness, I must report that Gillian Townsend Cell died at her home in Chapel Hill of ALS on September 7th. Dr. Cell was William & Mary's 3rd Provost, serving from 1993 to 2003, during the presidency of Tim Sullivan.
Gill was Dean of the College of Arts and Sciences at UNC Chapel Hill before joining us. She came to love William & Mary and was, herself, beloved and respected while among us. Provost Cell did serious good for our university in many spheres but especially, perhaps, in strategic planning, the redirection of resources in the face of declining state support, and advances in information technology on campus. Those who heard her read from the College's Royal Charter during our annual Charter Day rites will never forget the melodious English tones and crystalline clarity with which Gill always celebrated the words of our creation.
In 2003, Provost Cell was awarded the Thomas Jefferson Award, William & Mary's highest honor for members of our academic community. When announcing her retirement, President Sullivan captured the essence, saying Gill had "deep respect for the academic endeavor, a rigorous commitment to excellence, and a fierce, yet graceful, determination to succeed."
Gill's countless friends at William & Mary are grateful for her marvelous life. She will be missed.
There will be a memorial service for Dr. Cell in Chapel Hill. We do not yet know when. An obituary from Chapel Hill is below.
Taylor Reveley"