Jefferson Hall at William & Mary is located at 231 Jamestown Road on Old Campus. It measures 200 feet long by 41 feet wide and it currently functions as a co-ed dormitory for undergraduate upperclassmen. It was named for alumnus Thomas Jefferson.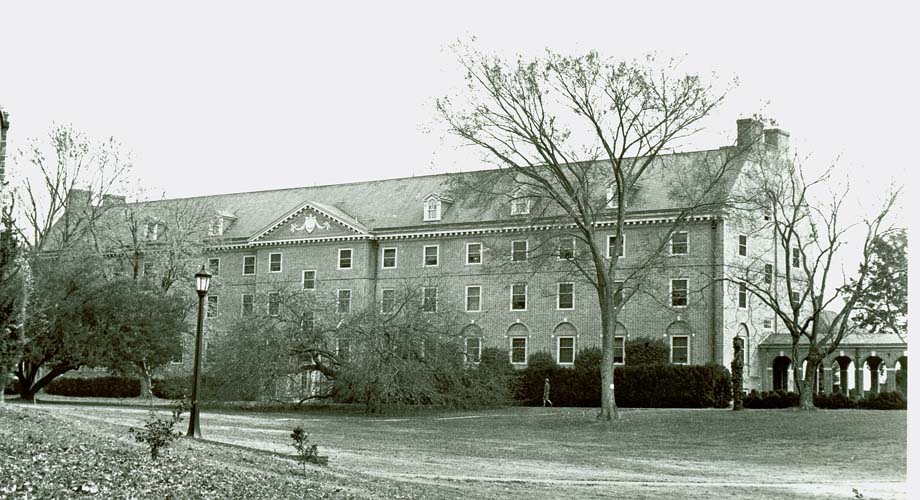 Construction and Use
In 1920, William & Mary hired an architect for a proposed women's dormitory, costing $183,501 to construct. The dormitory opened in September 1921. The basement contained a gymnasium with a 45,000 gallon swimming pool. The first-floor consisted of parlors and apartments for the director of women and for female teachers. The second and third floor had dormitory rooms for 125 girls.
The gymnasium was used for functions such as dances and basketball games. It was available to both men and women from 1922 to 1925, during the period in which the Old Gym was converted into a classroom building and the opening of the new Blow Gymnasium.
The iron gates from the Capitol Building in Richmond, erected in front of Jefferson Hall facing Jamestown Road and now serving as a fence, were given by the D.A.R. as a memorial to Kate Waller Barrett and were dedicated on April 30, 1926.(The Flat Hat, p. 5The Flat Hat, p. 4)
A women's special dining hall was constructed in the dormitory in 1935 but was reconverted to student rooms in the summer of 1949. The first African-American students in residence at the College of William & Mary lived in the basement of Jefferson Hall in 1965, alongside other students. Jefferson Hall underwent renovation from 1976 to 1977 and wood framing was put in the west end over the swimming pool area to replace the framing erected in 1965 to support new rooms in the basement.
1983 Fire to the Present
Jefferson Hall was destroyed by fire on January 20, 1983, but the outer walls remained standing.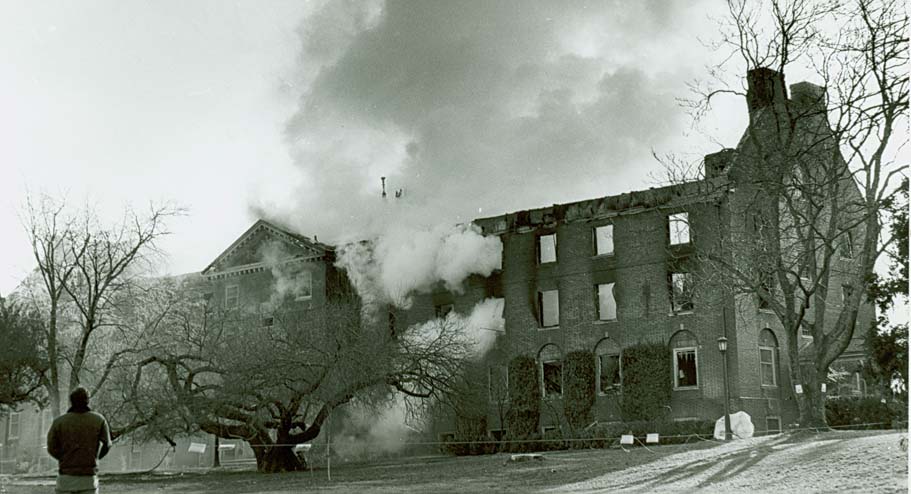 Gutted by fire: January 1983
Reconstructed: 1984-1985]]Reconstruction of the building was turned over to the Buildings and Grounds Department in October 1984. Buildings and Grounds planned to reconstruct the building so that it would house 185 students in 88 double rooms and 10 single rooms. Lounges would be located at each wing with kitchens in the mid-section of each hall. Buildings and Grounds also planned to make the whole building air-conditioned, with a recreation room and a laundry room in the basement. The residence hall officially reopened on January 27, 1985 and was fully occupied by undergraduate students.
Board of Visitors Excerpts
June 8, 1920: "Your Committee reports that under Authority of the Board it has let and signed contract for the construction of the women's dormitory, contract price being $183,501 and Architect fees."
Material in the Special Collections Research Center
Photographs
University Archives Photograph Collection, Special Collections Research Center, Swem Library, William & Mary.
1922-WM Bulletin, March 1922, Summer Quarter, frontispiece
Various issues of the Colonial Echo including: 1922, p. 13, 20, 21, 26 (south facade, parlor, gym, pool); 1924, p. 18; 1926, p. 17, 18.