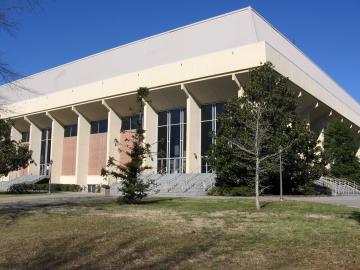 Kaplan Arena (formerly William & Mary Hall) is located at 751 Ukrop Way. It is an indoor arena at William & Mary that hosts university-wide events such as commencement and Tribe intercollegiate athletic events. The inside of the arena is an 8,600-seat multi-purpose area "measuring almost 24,000 square feet and the seating bowl has a capacity of approximately 10,000. Catered events for up to 1,200 can be accommodated in the arena. In the past, it has housed a wide array of other activities, from concerts to large academic conferences and trade shows."1
Construction
The need for a large, modern athletic arena had been identified by William & Mary in its long range planning and the idea gained traction in the budgeting cycles of the 1960s. The facility was first billed as a men's physical education building before being repackaged as a convocation center. This was done in part to shift the purpose of the building in the minds of the William & Mary community, legislature, and general public from just an athletic facility of interest to the few to a building of use and interest to the many. Construction began in September 1969. The building replaced Blow Gym as the university's primary athletic facility and was named William & Mary Hall.
The first men's basketball game was played here on December 5, 1970 against the University of North Carolina. The game was played with folding chairs on concrete foundations, a portable basketball floor borrowed from Fort Story, a portable public address system, and a borrowed scoreboard. The heating system had not been completed, so fans wore their jackets and used blankets throughout the game and the UNC players dressed on their bus. The athletic and convocation facility was officially dedicated during Charter Day and Parents Day weekend in February 1971.
Kaplan Arena In Use
Sly and the Family Stone were the first band to play a concert at the Hall in 1971. Other notable performers include the Grateful Dead, James Taylor, Deep Purple, Neil Young, REM, the Police, Bruce Hornsby, Bette Midler, and many others. The arena hosted the then ECAC South, now Colonial Athletic Association men's basketball tournament in 1985, and in 1993, HRH Prince Charles participated in Charter Day celebrations there. The building plays host to a variety of events in addition to intercollegiate athletic events. Before online registration for classes, students would wait in line here to register each semester. Other events range from commencements to concerts to special William & Mary occasions such as the 1993 Charter Day ceremony featuring HRH Prince Charles. The arena was home to the Wightman Cup from 1983-1990 when top women's tennis players including Chris Everet, Martina Navratilova, Mary Joe Fernandez, Jennifer Capriati, Betsy Nagelsen, and others competed. The Wightman Cup Room is located on the mezzanine level. The Wightman Cup was a team tennis competition for women contested from 1923 through 1989 between the U.S. and Great Britain. The matches were played in even years in Britain and in odd years in the U.S. The competition was discontinued in 1990 due to declining interest as a result of the dominance of the U.S. team.
The arena portion of William & Mary Hall was named Kaplan Arena in 2005. It hosts men's and women's basketball, men's and women's gymnastics, and volleyball games.2
Concerts
Especially in the Hall's early years, there were multiple concerts throughout the year. A partial list of concerts is available.
Name Change
At their September 2016 meeting, the Board of Visitors voted to officially change the name of William & Mary Hall to Kaplan Arena, in honor of alumni and benefactors, Jane Thompson Kaplan '56 and Jim Kaplan '57. 3
Material in the Special Collections Research Center
References