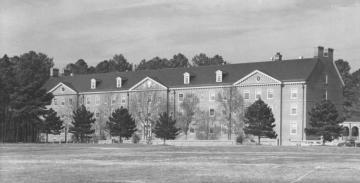 Landrum Hall is a women's dormitory located 601 Landrum Drive (formerly Old Campus Road) and west of Chandler Hall. The college awarded a contract of $669,730 to C.L. Lewis and Company of Lynchburg in 1957 for its construction. The plans for Landrum Hall included a large recreation room in the basement, a lounge and lobby on the first floor, an elevator, and the capacity to house 185 women. Construction was completed in 1958, and the dormitory housed 217 freshman girls in double rooms with adjoining suite bathrooms.
The Board of Visitors decided to name the building for Grace Warren Landrum (d. 1951), the Dean of Women and a professor of English from 1927-1947. The dedication ceremony was held on February 9, 1959.
Photographs
P1982.241 (construction)
FH, 9/17/1957, p. 11 (Construction)
References
University Archives Buildings File (2007), Landrum Hall, Earl Gregg Swem Library, The College of William & Mary.
---