The Matthew Whaley School or Matty Whaley School is located in Williamsburg, Virginia.
Overview
Matthew (Mattey) Whaley, the only son of James and Mary Page Whaley was born in 1696 in Williamsburg. He attended the small grammar school his mother had in the family's back yard. Young Mattey died at the age of nine in 1705 and was buried in the churchyard of Bruton Parish Church where his tomb still stands. James Whaley, his father, died three years later in 1708, and was buried alongside Mattey.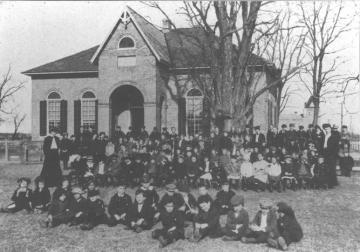 Mrs. Whaley established a free school for the poor in the boy's memory. It had a schoolhouse, a master's house, and a stable. Mrs. Whaley left for England, entrusting the school's management to the Bruton Parish Church wardens. She died 34 years later in 1742, leaving a legacy to support the institution. A 1766 advertisement in the Virginia Gazette showed the school was still in existence. According to Lyon G. Tyler's "Grammar and Mattey Practice Model School" published in the William & Mary Quarterly: "I have seen persons who well remember this establishment, though it ceased to exist about the period when the Revolutionary War closed. ".
By 1865, the buildings had disappeared based on an affidavit of William & Mary President Benjamin S. Ewell. After the American Civil War, the English court wrote to the Bruton Parish wardens regarding Mrs Whaley's trust. The wardens referred the matter to William & Mary. Since the college had a grammar school with the objective of teaching the "neediest children of the parish of Bruton", Mrs. Whaley's trust was transferred to William & Mary.
The name of the grammar school was changed to "Grammar and Mattey School" and teaching was begun in the Brafferton Building at in October 1867. In 1870, the William & Mary Board of Visitors erected a brick school house on a lot where once the Governor's Palace stood.
In July, 1873, the school was leased to the town authorities for a free school. This connection was dissolved in July 1894 and the Board of the college reorganized it as a Model and Practice School for William & Mary students to "observe the actual fact of teaching".
Location: On site of the Old Governor's Palace.
Chronology
1868--two lots constituting the Palace lots containing some six acres purchased (Board of Visitors, 1868, p. 76, 79, 80, 81; Wm. S. Peachy to Tazewell Taylor, Sept. 22, 1868 in College Papers, folder 19)
1870--built
1871--Report of the Faculty to the Board of Visitors and Governors, July 3, 1871- "Since your last meeting, July 1870, a commodious brick building, 62' x 43' for the Grammar and Matty School has been erected on the foundation of the Colonial Palace,...(Board of Visitors, 1871, p. 102)
1892--suit instituted by School Board of City of Williamsburg against W&M for possession of the Matty fund, invested in school and Sanders house and lot of 10 acres (Board of Visitors, 1892, p. 323, 350, 358-359, 365, 370, 372-373- 378-379, 385, 390-392, 403, 405, 415, 462-463; lots to be sold, 470-471)
1895--Lyon G.Tyler's History of Matthew Whaley Model & Practice School published (Board of Visitors, c.1895, p. 385)
1919--property and building turned over to School Board of Williamsburg (Board of Visitors, 1919, p. 408)
1928--Matthew Whaley School Property conveyed to W.A.R. Goodwin for $50,000 (Board of Visitors, Nov. 1928, p. 196) ..constructed by Colonel Ewell out of bricks from the old Palace, four class rooms (J.A.C. Chandler to WAR Goodwin, Aug. 8, 1928, 1982.45)
Material in the Special Collections Research Center
Board of Visitors Records, Special Collections Research Center, Swem Library, William & Mary.
Office of the President (various presidents), Special Collections Research Center, Swem Library, William & Mary.
Photographs
1895-Catalog, p. 61
1899-Colonial Echo, p. 15
1901-Colonial Echo, p. 68
1906-Colonial Echo, p. 95
1906-Catalog, p. 63
1909-Colonial Echo, p. 70 (interior)
1912-Colonial Echo, p. 97 (location on Palace Green)
References