The Presbyterian Institute was also known as Williamsburg Female Institute. The Institute was located four blocks from the campus of the College of William & Mary on Scotland Street. It was built in 1908 and demolished in 1929. It was near the present Matthew Whaley School.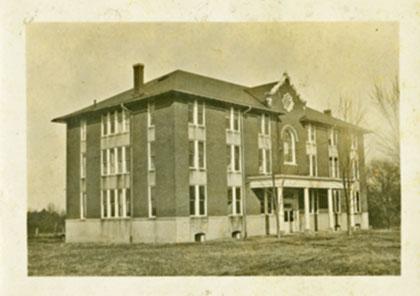 In 1920 the Presbyterian Institute was rented by the college to be used as a dormitory. It was rented for $1600 and held 75 men. (Board of Visitors, June 20, 1920, p. 13)
It was a brick building, 253' x 40', and 3 stories high.
In 1926/27 it was no longer used by William & Mary, but it was still listed in the 1927 Catalog. The building was abandoned in 1927/28 (Flat Hat, 5/18/1928, 9). It was torn down to make way for new Matthew Whaley School around 1929.
1929--Institute property belonged to Alumni Association, conveyed by deed from Laeta H. Norvell, June 17, 1923. Conveyed to College May 22, 1929. Remainder of property sold to School Board of City of Williamsburg and to Williamsburg Holding Corp. (Colonial Williamsburg)
The "Institute" and "Scotland" buildings were listed separately in the 1926-1927 directory. Both housed men. There were very few rooms under Institute (further research to needed into Presbyterian Institute and the Scotland Street Dormitory).
Photographs