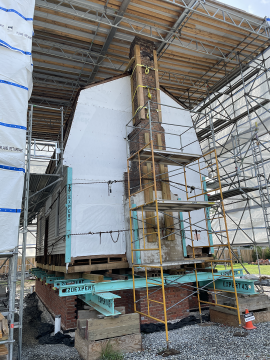 The Williamsburg Bray School is located at 331 Francis Street West, Williamsburg, Virginia. It has also been known as the Bray-Digges House, Prince George House, Dudley Digges House, and Brown Hall. The Digges name derives from Dudley Digges, a local member of Bruton Parish Church and uncle to the well-known lawyer and Revolutionary War officer Dudley Digges of Yorktown.
Construction
Originally constructed at 107 North Boundary Street, the building moved to 524 Prince George Street in 1930 and was relocated to its current site on February 10th, 2023. Based on written records, the building was previously believed to have been built in 1717 or earlier, and later paint analysis suggested circa 1790 as the date of construction. In 2020, Colonial Williamsburg Foundation researchers concluded that the wood used in the structure dates from 1759-1760.
Use and Recognition as Williamsburg Bray School
Williamsburg's Bray School was established in 1760 by The Associates of Dr. Bray, an Anglican charity based in England and named for Thomas Bray, at the recommendation of Benjamin Franklin and with support from William & Mary's president and rector of Bruton Parish Church, Reverend Thomas Dawson. During the School's operation (1760-1774), its sole teacher, Ann Wager, educated almost 400 free and enslaved African American children. The school's faith-based curriculum justified slavery; yet their practice of literacy seeded agency.1 In March 2019, Virginia Department of Historic Resources marker W-109 was unveiled at 107 North Boundary Street to commemorate the Bray School's original location.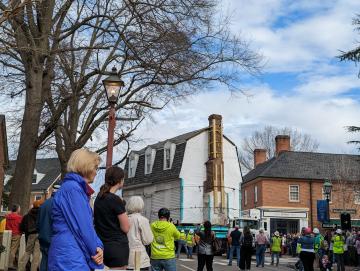 After many years of research, William & Mary Chancellor Professor of English Emeritus Dr. Terry L. Meyers theorized that the house at 524 Prince George Street was in fact the Bray School itself, moved and visually altered by subsequent renovations, which Colonial Williamsburg researchers confirmed in 2020. In 2021, William & Mary and the Colonial Williamsburg Foundation announced the discovery and a new partnership, the Williamsburg Bray School Initiative, to "use the Bray School as a focal point for research, scholarship and dialogue regarding the interconnected, often troubled, legacy of race, religion and education in Williamsburg and in America." To better preserve and study the building, it was moved to Francis Street in February 2023, where it will be restored and interpreted as part of the Colonial Williamsburg Historic Area.
Uses during the 20th Century
In 1926, the house was bought to be used as a dormitory for Methodist girls attending William & Mary. The building was renamed the Brown Hall in recognition of the major benefactors, Mrs. Jane Brown and Cornelia Brown, members of a prominent Methodist family. Brown Hall had enough space to accommodate 12-14 girls.
"On Boundary Street back of the Methodist Church is located a new dormitory for girls, Brown Hall, which accommodates fourteen girls and the matron...built from the proceeds of the Dyson estate as a memorial to a very prominent Methodist family, the Browns.

Plans are being carried out to take care of more girls by adding new bedrooms and enlarging the living room. In addition to this hall the Methodists are planning for a new brick dormitory to house 100 girls. This will be situated between Brown Hall and the new Methodist Church"2
In 1930, with the approval of the Board of Visitors, William & Mary agreed to buy the house and move it to its second location on Prince George Street. "Brown Hall was established in 1924 and was sold this year to William & Mary College and moved to a new site on Prince George Street. The building was originally the home of Dudley Digges, but now that of William S. Gooch... The old building accomodated twelve girls, but the new structure has sample room for seventy-four girls, forty-eight of whom has private baths."3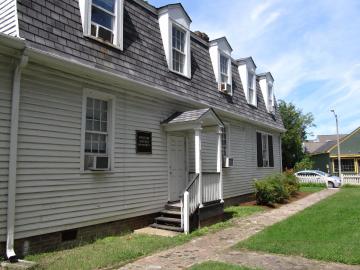 After 1939, the house was sometimes called Old Brown Hall, Brown Hall Annex, or, later, Prince George House. This was after the Methodists built the present Brown Hall at the corner of North Boundary Street and Prince George Street, which the College bought in 1939. From 1940 to 1988, the building was used to house both faculty and students. In 1988, the university began using the building to house its Military Science Department and ROTC.
Research Projects
Further Reading
"This Old House: Moved, Mislabeled, and Misplaced, Building at the College dates to 1700s," Terry Meyers, The Virginia Gazette, 2004/6/19, pp. 1A, 12A-13A. University Archives Buildings File (2007), Dudley Digges House, William & Mary Libraries, Special Collections.

"A Post-and-Beam Mystery at William & Mary," The Chronicle of Higher Education, May 30, 2010.

"William & Mary may be home to oldest standing schoolhouse for black children," Washington Post 22 July 2010.

"English professor Meyers uncovers new details of College's past," W&M News, January 13, 2011.

"Historic College Building Rediscovered," The Flat Hat, January 28, 2011.

"Historical marker for Bray School unveiled," W&M News, March 18, 2019.

Press Release: "Colonial Williamsburg, William & Mary Identify Structure of the 18th-Century Bray School for Enslaved and Free Black Children," February 25, 2021.
"Colonial Williamsburg joins William & Mary to research, relocated, interpret 18th-century Bray School for enslaved and free Black children," W&M News, February 25, 2021.
"The Bray-Digges House," National Institute of American History & Democracy (NIAHD).
"Stories & Structure: The History of Black Education at the Williamsburg Bray School," by Priya Chhaya, National Trust for Historic Preservation, October 12, 2022.
"Relocation, preservation of the Williamsburg Bray School celebrated," W&M News, February 14, 2023.

"Moving History: Williamsburg Bray School finds new home in Colonial Williamsburg," The Flat Hat, February 21, 2023.
1. "Williamsburg Bray School Initiative," Bray School Lab, William & Mary. (https://www.wm.edu/sites/brayschool/bray-initiative/index.php)
2. "Brown Hall is Name of Methodist Dormitory," The Flat Hat, October 1, 1926, page 8. (http://hdl.handle.net/10288/4039)
3. "Old building accommodated 12, new one 74, 48 have private baths," The Flat Hat, September 26, 1930, page 8. (http://hdl.handle.net/10288/5397)