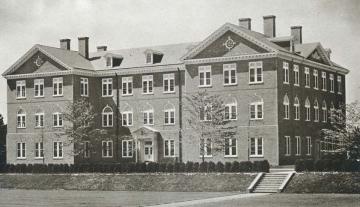 James Blair Hall, formerly named Marshall-Wythe Hall, is located on the west end of the Sunken Garden, at 250 James Blair Drive at William & Mary. It is across the Sunken Garden from McGlothlin-Street Hall and next to Tyler Hall. The Tyler Family Garden is on one side and a statue of William & Mary's first president, the Rev. James Blair, is on the other.
Construction was contracted to T.A. Loving for $175,250 with a Public Works Administration grant. Built between 1934-1935, it was intended to house the Marshall-Wythe School of Government and Citizenship. The first floor was designed to hold administrative offices (for the President, Deans, Bursar, Business Manager, registrar and treasurer; also a large business office, conference room, two file rooms, rest rooms, record room, and two reception rooms). The second floor had 8 classrooms and 7 offices for faculty members, with similar plans for the third floor. The Administrative Offices moved into the building on July 1, 1935. The interior woodwork is American Walnut.
In 1936, the second and third floors were occupied by the departments of Economics, Government, History, Sociology, and the School of Jurisprudence. A dedication ceremony for the building was held in April 1937. In 1943, the Navy Chaplain's School on campus during World War II was located on the second floor. In 1959, a new phone system was installed for the campus and the equipment for the system was kept in the basement of the building. In 1962, the President's and Admissions offices moved to Ewell Hall.
In 1968, the building was renamed James Blair Hall, after the Law School moved into the old library building, known today as Tucker Hall.
It currently (2010) houses the Philosophy and History departments as well as some administrative offices.