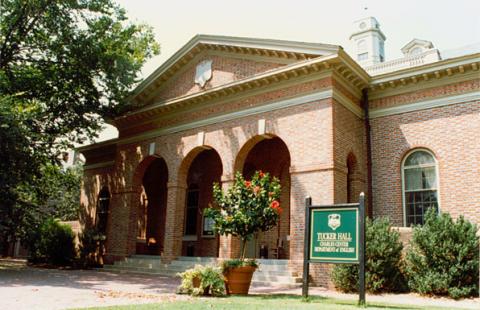 Tucker Hall is an academic building located along the north side of the Sunken Garden near the Wren Building at William & Mary. The building opened as William & Mary's first dedicated library building and served as such until the opening of the Earl Gregg Swem Library.
History
In 1905, Andrew Carnegie was solicited for funds to build the library at the College of William & Mary. He pledged $20,000 if the College would raise an additional $20,000 for support and upkeep. The funds were raised by the following year, and in 1908 R.K. Harwood and J.A. Moss were contracted to build the library for $14,697. A ceremony was held on April 13, 1908, Thomas Jefferson's birthday. At this time the cornerstone was laid and George Clinton Batchellor, the principle donor ($10,000) was given an honorary degree, an LLD . The 12,000-volume library was completed in December, but the dedication and public opening were not until May 13 and 14, 1909.
The library had a stock room and a fireproof vault in the north wing. Dances were held in the library in 1920. In 1922, the College received $25,000 from the Carnegie Endowment Corporation to build an addition to the library. Architect Charles M. Robinson designed the addition. Harwood & Moss were contracted to build the addition for $16,290.50. The renovation, completed in 1923, doubled the size of the library. The new wing made the library an H-shaped building. The old stack room became a reading room and offices. The new three-story high stack room had a capacity of 50,000 volumes (with the provision that rearrangement could hold 150,000 volumes). Above the offices was a fire-proof vault.
Another addition was planned in 1928. Farmville Manufacturing Company was awarded the $84,432.77 contract (and a supplementary contract of $4,508). The 3-story addition used steel and brick construction. The design called for a 20-foot extension of the library on all sides. Two 120 foot reading rooms were constructed to hold 500 students, the volume capacity was expanded to 400,000 volumes (it contained 70,000) and the basement was rendered fireproof and waterproof. A marble staircase was added in the center of the former front reading room. Busts of George Washington and Robert E. Lee were placed in niches on the sides of the stairway. The project was completed in time for the spring semester in 1930 at a cost of $100,000. The law library was to be housed on the third floor.
In 1941, new men's and women's lounges, where smoking was allowed, were opened in the basement at a cost of $12,000. In 1942, librarian Earl Gregg Swem had exterior ivy removed to prevent dampness. In 1943, during World War II an airplane spotting station was moved into the library tower.
Photographs of the Library revealed the following:
Basement - offices for acquisitions, archives, archives vault, technical processing, documents and periodicals.
Main floor - card catalog, main reading room, portraits on the wall, busts on pedestals of John Marshall, George Wythe, William Blackstone. There was a large grand staircase up to the second floor.
Second floor - stacks
Attic - storage for Lyon G. Tyler Papers and uncataloged manuscripts and government documents.
In 1958, due to increased enrollment, the Virginia General Assembly appropriated $1 million for construction of a new library (Swem Library). In 1966-67, the building underwent renovations to prepare it for its newest tenant: the Law School. The first floor became offices for deans and secretaries and a faculty-student lounge. The old main reading room became the library room with offices for a librarian and tax specialists. The second floor was used for the Moot Court room, two main classrooms, faculty offices, and the Law Review Office. The third floor became home to the Wythe Society. The building was renamed Marshall-Wythe Hall in 1968.
In 1980, as the law school moved out and the English department moved in, the College changed the building's name to Tucker Hall in honor of former law professor and Revolutionary War veteran St. George Tucker. The English Department moved from spaces in the Wren Building, Brafferton building and Kitchen, and the Chancellor's basement. In 1987, the College opened a writing center in Tucker Hall which moved into Swem Library in 2009.
It housed the university's Department of English which in Fall, 2009, moved to Tyler Hall and the Roy R. Charles Center which also moved in 2009 to Blow Hall during Tucker Hall renovations. In August, 2013, renovations were complete allowing faculty and staff to move back. Glass-walled classrooms now greet the visitor to Tucker Hall on both sides upon entering the building's front door. There is a lecture theater in the building's rear and an atrium lit by daylight streaming in through the roof cupola. The atrium provides an informal space with ample electrical outlets for student gatherings or small presentations. The cupola perhaps best illustrates one of Tucker Hall's most apparent new features: its lighting.
Brief Chronology
1908: Cornerstone laid April 13
1909: Dedicated May 13, open to public May 14
1923: Addition to the building--back wing making the building H-shaped. New stack room three floors high, shelf capacity of 50,000 books, provision for rearrangement for 150,000. Old Stack room converted to reading room for 30 readers, offices for librarian. Above offices is balcony leading into fire-proof vault.
1929: Three-story addition: Marble staircase erected in center of former front reading room. Busts of G. Washington and R.E. Lee placed in nitches on sides of this stairway which leads to reading room on 2nd floor. Addition consists of 3-story structure between former reading room and stack room. Back part of old building to be used entirely as stack room.
1930: Seating capacity 500, 3 new reading rooms, shelving capacity 400,000 volumes (contains 70,000). Third floor to be used for law students, law library.
1931: Law library on 3rd floor
1941: New women's and men's lounges under main floor opened, may have been used as smoking rooms, cost $12,000
1942: Ivy removed from walls by Earl Gregg Swem, causing dampness
1943: Airplane spotting station moved into library tower
1967: Renovation, conversion to Law School. First floor offices for deans and secretaries, faculty-student lounge in front part. Across back of 1st floor in old main reading room is library room with offices for librarian and tax specialists. Second floor housed faculty offices, two main classrooms, and Law Review Office. Third floor housed the Wythe Society.
1968: Renamed Marshall-Wythe Hall.
1969: Moot Courtroom (on the first floor) opens during law weekend, April 25-26
1980: Over the summer, the Law School moved out, the English Department moved in. The building was renamed St. George Tucker Hall.
2009: English Department and Charles Center move out. The building is empty pending renovation.
2013: Renovation completed. Faculty and staff moved back August, 2013
From the Abbreviated History of Swem Library
By Frederick P. Gibbs, Class of 1958, August 2007; See Swem Library for Rev. Gibbs' complete essay.
In the dawn of the next century, during the lengthy presidency of Lyon Gardiner Tyler, a 30' by 80' brick edifice (where Tucker Hall now stands) was built to accommodate a burgeoning library. By 1919 the one-story structure contained a collection of 18,000 volumes. That year welcomed the presidency of Julian A.C. Chandler and an era of campus construction - Blow Gymnasium, Phi Beta Kappa Hall, Rogers and Washington, dormitories for men and coeds, and an expansion of the library from one story to three.
Enter Earl Gregg Swem
As President Chandler observed the upward and outward enlargement of Tucker Hall to provide adequate space for the steady influx of new books, he realized the necessity of hiring a professional to manage and develop a library that in a few decades would rank commendably among Southern colleges.
Born in Iowa in 1870 and the recipient of both a Bachelor's and Master's degree from Lafayette University, Swem had been associated with the Library of Congress and the Virginia State Library and was a recognized bibliographer of manuscripts and historical records before he arrived on campus in 1920. During his 25 year tenure as college librarian, Swem saw the quantity of books increase from 25,000 to more than 240,000, established the Archives and Manuscript Department, opened the stacks to both students and public, taught classes in library science and edited the William & Mary Quarterly. He retired on July 1, 1944 and died in 1965 at the age of 94.
By the early 1950s concern mounted about the threatening inadequacies of the library. A 1959 plan to replace tucker hall with a larger facility at the western end of the Sunken Garden was abandoned. With the new administration of Davis Paschall in 1961 came the development of a new campus west of the existing one. During Homecoming Weekend 1963 a groundbreaking ceremony prepared the way for the new 136,000 sq. ft. library which the Board of Visitors chose to name for Dr. Swem.
Material in the Special Collections Research Center
University Archives Photograph Collection, Special Collections Research Center, Earl Gregg Swem Library, William & Mary. Including: "Buildings & Grounds--Old Library" Folder; P1980.110 (interior), P1977.340 (aerial), P1979.836 (.1914), P1979.44 (c.1926), P1982.48 (interior c.1925), P77.240, P77.245, P77.247, P77.287, P77.294-298, P77.315-318, P1977.333, P1977.339, P77.343, P77.427, P78.212-213, P79.40-45, P79.47-67, P79.86-88, P79.185-199, P79.214-278, P79.836, P1980.110, P1980.123, P1980.131, P1981.21, P1981.165-181, P1982.48, P1982.185-186, P1982.190-197, P1982.224, P1982.226-230, P1982.232-234, P1985.25-29, P1985.57, P1986.123, P1986.42, P1987.153, P1987.200, P1987.441-443, P1987.463-465, P1988.138, P1988.329, P1989.121, P1989.162, P1989.354-361, P1989.363-369, P1989.374-376, P1991.100, P1998.4.
1908-1909 Catalog, p. 11
Colonial Echo: 1909 p. 78; 1911 p. 4 (interior); *1922 p. 16, 18; 1926 p. 22; 1928 p. 18; 1931 (last addition, center); 1969 p. 302 (north facade, remodeling for courtroom)
circa l916-Bulletin, Vol. IX, No. 4, p. 19 (interior)
Flat Hat student newspaper; search the index available in the SCRC by person's name, student group name, event, or topical heading; Selected articles: 28 March 1929; 1 November 1929; 10 January 1956.
Alumni Gazette March 1959, 4-9; December 1968, 5-7
Thorne, Thomas Elston (pencil sketches), University Archives Faculty-Alumni File Collection.
Various Blueprints, Facilities Management Records.
Check the Tyler Family Papers, Group H, Box V, Folder 8 for a reference to a "....proposal for a fireproof library."
In the News