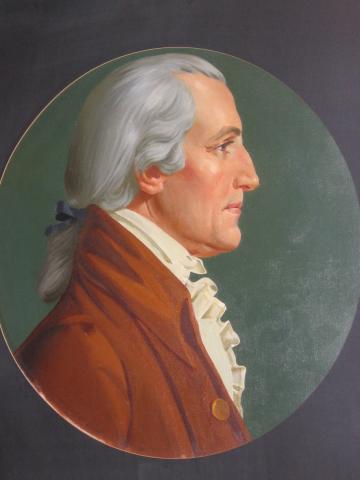 St. George Tucker (1752 - 1827) was born near Port Royal, Bermuda on July 10, 1752, the youngest of six children of Colonel Henry Tucker, a prosperous merchant, and Anne Butterfield, daughter of Bermuda's Chief Justice.
In 1771 Tucker left Bermuda to pursue an education at William & Mary. He also studied law under George Wythe, who also instructed Thomas Jefferson and a number of other notable figures. On April 4, 1774, Colonial Attorney John Randolph and George Wythe, examined and approved Tucker for the Virginia bar.
Because Virginia's courts closed during the Revolutionary War era, Tucker put off beginning his law practice and returned to Bermuda in June 1775. During this time, Tucker also expressed concern that the raid of the magazine in Williamsburg, which occurred in April 1775, might inspire rebels to attack a similar magazine in Bermuda. Tucker eventually returned to Virginia on January 3, 1777, aboard the Dispatch with a cargo of smuggled salt. Later, he became his father's agent in the colonies and made himself quite wealthy in the process.
Tucker married Frances "Fanny" Bland Randolph, the widow of John Randolph, in 1778 and moved to the Randolph family plantation, Matoax, in Chesterfield County. Together, the couple had five children: Anne Frances Bland Tucker, Henry St. George Tucker, Theodorick Tudor Tucker, Nathaniel Beverly Tucker, and Henrietta Eliza Tucker.
In 1779, when troops entered Hampton Roads, Tucker joined the militia as a major. He stayed in service throughout the rest of the war, and sustained a minor injury after running into a runaway soldier's bayonet at the Battle of Guilford Courthouse. At the Battle of Yorktown in 1781, Tucker, who was fluent in French, served as a liaison between the French army and Governor Thomas Nelson.
After the war, Tucker set up a legal practice in Petersburg. In 1788, he was appointed to a position on the Virginia General Court in addition to succeeding George Wythe as law instructor at William & Mary. That same year, Fanny Bland Randolph Tucker died after giving birth to the couple's sixth child.
Tucker remarried in October 1791 to Lelia Skipwith Carter. Together, the couple had three children, but none survived past childhood.
In 1796, Tucker wrote and published A Dissertation on Slavery: With A Proposal for the Gradual Abolition of It in the State of Virginia. Seven years later in 1803, he published America Blackstone, which was the first major treatise on law to be published in the United States.
In 1804, Tucker was appointed to the Virginia Court of Appeals as a judge. This same year, he left William & Mary after continuous disputes about his teaching methods. Tucker held his position in the Court of Appeals until 1811, and from 1813 until 1825, he served as judge in Virginia's eastern federal district court.
He died on November 10, 1827 at the age of 75. The St. George Tucker Award at William & Mary is named in his honor. The Tucker-Coleman Room in the Special Collections Research Center in Swem Library includes an exhibit of selected Tucker and Coleman family items. - Tucker Hall at William & Mary is named in his honor.
Material in the Special Collections Research Center
Further Reading
---
Mary Haldane Coleman, St. George Tucker Citizen of No Mean City, (Richmond, Virginia: Dietz Press, 1938), pg. 13)
Certificate of the Admission of St. George Tucker to practice in the county and inferior courts in Virginia signed by John Randolph and George Wythe, April 4, 1774, Tucker-Coleman Papers, Special Collections Research Center, Swem Library, William & Mary, http://hdl.handle.net/10288/18891, accessed April 11, 2017.