Phi Beta Kappa Hall, also known as PBK Hall, is located at 601 Jamestown Road, northeast of Morton Hall. The first Phi Beta Kappa Hall at William & Mary, which opened in 1926 and suffered a fire in 1953, is now known as Ewell Hall.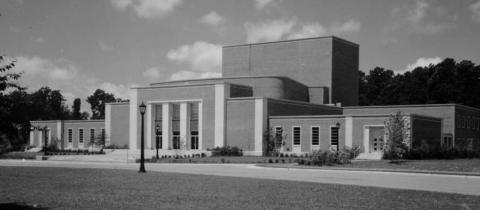 Plans for the building with drawings by Walford and Wright were completed and sent to the governor for approval in 1955. These plans included an auditorium that would seat 805 people. William & Mary planned to complete construction of the building by March 1, 1957.
John D. Rockefeller, Jr., contributed a gift of $253,061.23 for the construction of Phi Beta Kappa Hall in 1955, and in 1956 the College accepted a bid from Corde and Storke of Richmond for a construction contract of $1,237,474. The contract was signed on February 2, 1956 and marked the preliminaries for groundbreaking. The cornerstone for the building was laid on June 11, 1956.
Construction of Phi Beta Kappa Hall was turned over to the College by general contractors on March 1, 1957. The basement of the building includes a scenery room, trap toom, and an orchestra pit. The first floor has a drafting room, television studio, costume storage, sewing room, dressing rooms, a kitchen, the Phi Beta Kappa room, a lounge, a rehearsal room, a check room, offices, the auditorium, the stage, and a hydraulic orchestra lift. The second floor has the balcony and radio studios. The dedication ceremony for Phi Beta Kappa Hall was held on May 18, 1957 although the official opening of the building was on March 27, 1957 with the performance of "Romeo and Juliet" by the W&M Theatre. The building was and is still used by the Department of Theatre and Speech.
Construction on the fine arts wing, named the Robert Andrews Hall of Fine Arts, began in 1965. The theatre was renovated in 1985 - new stage rigging was put in, as well as computerized lighting control and a wireless sound system for the hearing impaired.
WCWM, the College radio station, operated from Phi Beta Kappa Hall from 1959 until the 1985-1986 school year, when it moved to the Campus Center basement studio.
References
University Archives Buildings File (2007), Phi Beta Kappa Hall, Earl Gregg Swem Library, The College of William & Mary.
---