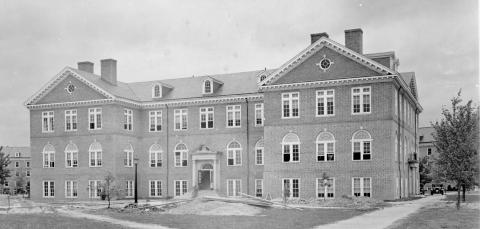 Tyler Hall, was formerly named Rogers Hall (old Rogers Hall was constructed in 1927) and Chancellors Hall, before receiving its current name in 1988. It is located on Blair Road between James Blair Hall and Tucker Hall. The first Tyler Hall was built in 1916 and is today the Reves Center.
The building was planned as a science hall in memory of William Barton Rogers. In 1923, an application was made to the General Education Board for a donation of $150,000 to begin a campaign for raising $300,000 for a memorial science hall to William Barton Rogers - $200,000 for building and $100,000 for equipment (Board of Visitors, June 1923, p. 64) The General Education Board donated $100,000 contingent on the College providing the remaining $200,000 needed (two thirds for the building and the remainder for equipment). (Board of Visitors, June 1924, p. 86)
"The Romance and Renaissance of the College of William & Mary in Virginia" (circa 1924) includes a proposal for the construction of the William Barton Rogers Science Hall to replace the Penniman Building. A sketch of the proposed building by architect [Charles M. Robinson], dated 1921, is included in the publication.
In 1926, plans were submitted for the approval of the building committee (Board of Visitors, Feb. 1926, p.122, approval Mar. 1926, p.125) The contract was awarded to Harwood Construction Company for $202,000 (Board of Visitors, June 1926, p.139). The cornerstone was laid August 28 by the Williamsburg Lodge of Masons (FH, 9/24/1926, 5). [Charles M. Robinson] was the architect.
The building opened in the fall of 1927 and housed the chemistry, physics, and psychology departments.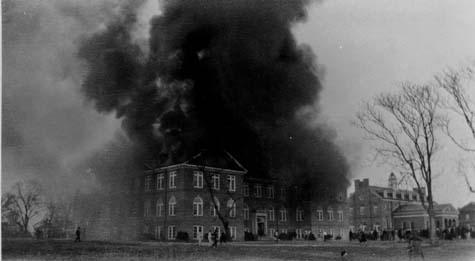 The building also caught fire in 1972
A fire burned the roof, dormer story, and third floor of the building in 1930, causing $70,142 worth of damage. Temporary roofing was set up on the west end of the hall until June, so that classes could be held while construction continued on a permanent roof for the east side. A basement fire in 1972 caused $30,000 in damage.
The building was used in 1975 to house the Development Office, the Metropolitan Criminal Justice Center, the National Center for State Courts, the Anthropology Department, the Adult Skills Program, and the Publication Office. It was renovated in the summer of 1980 for the School of Business Administration.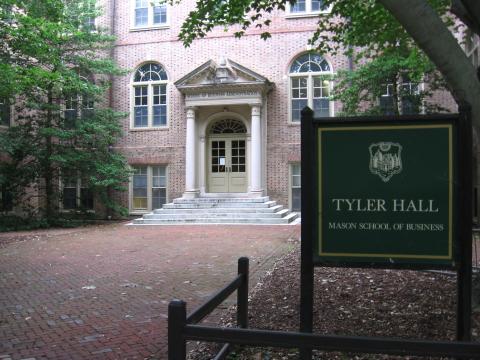 From 1975, with the completion of the new Rogers Hall, until 1982, this building was known as Old Rogers Hall. The building was renamed Chancellors Hall in 1982 and dedicated as the business school on President's Day, February 5, 1982. In 1985, the basement was renovated to house the Professional Resources Facility, a research library, and office space. On June 24, 1988, the building was rededicated as Tyler Hall, with the old Tyler Hall becoming the Wendy and Emery Reves Center for International Studies. The Departments of History (in James Blair Hall as of 2009) and Philosophy (in James Blair Hall as of 2009) were previously housed in Tyler Hall. The English Department was also housed in Tyler before moving into the Wren Building and then into Tucker Hall. The School of Business left Tyler Hall July 6-7, 2009, moving into its new building, Miller Hall.
Timeline
1927--constructed; Housed Chemistry, Physics, Psychology Departments (1928--29 Handbook, p. 17); open in Fall. Ground floor physics department, 2nd and 3rd floors chemistry. Lecture rooms, reading rooms, private laboratories for research work (WM Catalog, April 1928, p. 34)
1930--fire burned the roof, dormer story and third floor causing $70,142 worth of damage (March 15, 1930); temporary roofing on west end until June so classes could be held, construction on permanent roof on east side begun. $72,000 insurance claim (FH, 3/28/1930, 5)
1930--housed the chemistry and physics departments (1930/31 Handbook, p. 21)
1972--fire in basement, $30,000 damages, June 25, 1972 (FH, 9/17/1972,p.1)
1975--to be used by Development Office, Metropolitan Criminal Justice Center, National Center for State Courts, Anthropology Department, Adult Skills Program, Publication Office (WMN, 9/23/1975, 5)
1980--renovation for School of Business Administration begun (WMN, 8/26/1980, p.7) over summer.

Interior walls torn down on lower floors (WMN, 9/9/1980, 3)
renovation just begun (FH, 8/29/1980, 2)

1982--Renamed Chancellors Hall and dedicated as the business school on President's Day
February 5, 1982. (WMN, 2/2/1952, 1; WMN, 2/9/1982, 1, 5)
*1985--renovation in basement for Professional Resources Facility, research library and office space, in former MBA lounge space (FH, 1/25/1985, p. 4)
2009--School of Business offices are moved to the new Miller Hall on July 6-7. Department of English moves into Tyler Hall during renovation of Tucker Hall.
Photographs
Colonial Echo: 1928 p. 16; 1942 p. 24; 1982 p. 136
Photographs of it on fire in the Paul W. Norton Scrapbook, Special Collections Research Center, Swem Library, William & Mary.